The Shape of a Century - an Anzac Concert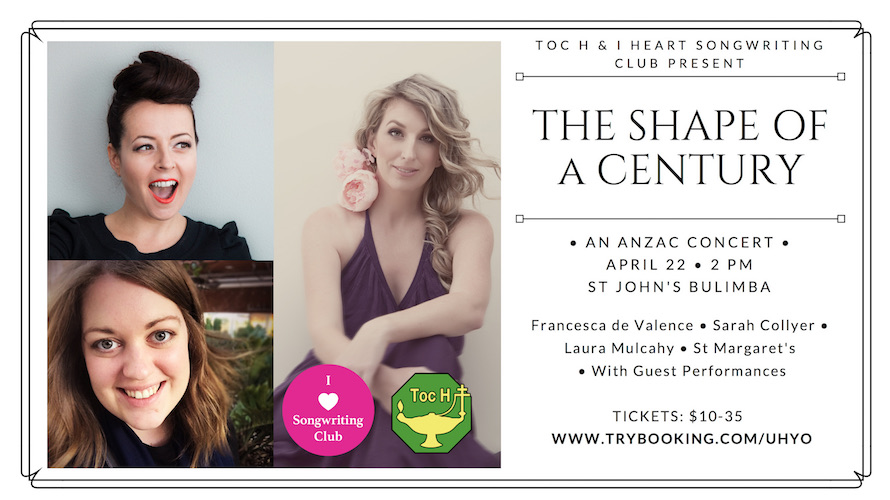 A century on from the end of the First Great War, Australia is a very different country. We have blossomed through the camaraderie of our fellow citizens and the courage shown to us by our service people.  This Anzac Day, I Heart Songwriting Club and Toc H are joining forces to pay tribute to "The Shape of a Century".

This concert will feature award-winning singer-songwriter and founder of I Heart Songwriting Club Francesca de Valence, Brisbane soulstress Sarah Collyer and international artist Laura Mulcahy performing original songs and just a few of your favourites. Special guests include St. Margaret's students.

Toc H is a volunteer movement that was founded in World War I and continues today by building friendships and offering service throughout the community with work that is designed to break down the barriers that divide people from one another. This concert is a fundraiser for the Toc H Queensland arm.

I Heart Songwriting Club is a global online community which aims to inspire, support and challenge songwriters as they develop their skills in a safe and inclusive environment. We support, celebrate and reward our members and foster a sense of belonging in what can be a truly life-changing community. I Heart Songwriting Club is proud to present this concert.
A pre-purchased ticket is the only way to attend. Please note our events usually sell out, please book early to avoid disappointment.
Details:
Sun 22 April, 2-5pm (including interval)
St. John's Anglican Church
Bulimba, QLD 4171

Tickets $10-$35
Kids under 10 yo - free admission
All Ages
Group Discount available
The details will also be emailed to you upon ticket purchase.
Contact Details:
Francesca de Valence
Concert Organiser
enquiries@iheartsongwritingclub.com
This event is currently closed and no contact details are available