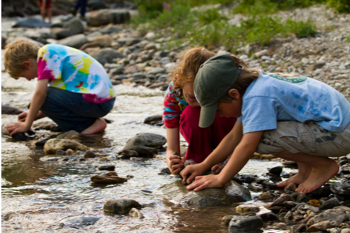 Ceres Environmental, Energy and Design Workshops
Friday 21st of September, 9.45am (until 2-2.30pm)
For families (workshops are tailored to children aged 4-10 and 10-12 but all ages are welcome)
Cost:
Students aged 4-10 $27 (for up to 4 workshops)
Students aged 10-12 $27 (for up to 4 workshops)
Free for adults
Free for siblings not participating in the programs
Corner of Roberts and Stewarts Streets, Brunswick East
Bookings due Thursday 23rd of August, 2018 (but places may fill earlier so book in soon)
Workshops for Ages 4 to 10 years
The ticket for students aged 4 to 10 years includes the following 3 workshops, commencing at 10.15am and finishing at 2pm. You will need to arrive before 9.45am so that we can enter as a group but you are welcome to leave earlier if you need to.
River's Tale
Explore the life of a river and discover why it is so important to conserve fresh water. Become a character in the river's tale and learn how you can positively or negatively influence the health of the creek. Learn about the water cycle, and find out the fundamental role rivers and creeks play in this global movement of water.
Water Savers Games
Participate in three physically active games focussing on the origin of our drinking water and how to conserve it. Students act as water molecules and compete to travel the most times around the water cycle in a relay. Students attempt to safely transport water through and obstacle course without wasting any. Students choose ways to save water for their homes by shot-putting bean bags to a range of water saving targets.
Weather and Climate
Students become meteorologists and discover how to manually measure and interpret the weather using instruments, gadgets and sensory observations. Students measure, observe and experience weather, seasons and changes and explore why it is important to understand the different seasons and major weather types and their connections. Students look at weather and seasons and the way different cultural groups describe them, name and order the months of the year and the Aboriginal six seasons. Students look at how weather patterns affect plants and animals (including humans) and biodiversity.
Netting for Water Bugs
Students enjoy a hands-on experience of netting and discover the creatures living in our waterways, identifying the creatures and finding out how they keep our water healthy. Students will learn about aquatic food chains and how water bugs are an indicator of water health.
Workshops for Ages 10 to 12 Years
The ticket for students aged 10 to 12 years includes the following 4 workshops, commencing at 9.45am and finishing at 2.30pm. You will need to arrive before 9.45am so that we can enter as a group but you are welcome to leave earlier if you need to.
Healthy Soils
Students discover the importance of different soil types and the life it contains, test soil pH and decide which soils are suitable for growing vegetables. Students also use stream tables to discover how erosion occurs across different slopes and different vegetation types as a result of natural processes and human activity. Students learn about soil deficiencies and soil health, identifying ideal soil types for producing food.
Reading Rocks and Fossils
Students gain an understanding of the rock cycle and discover that a variety of rocks make up our earth. They look, feel and identify the difference between igneous, sedimentary and metamorphic rocks and observe a collection of fossils, tracing their place in the history of time.
Water Quality Monitoring
Students get into the science of the health of our waterways using chemical and physical tests to monitor water quality (depth, temperature, speed of flow, turbidity, pH and salinity). Students assess creek and habitat health using the data gathered and discuss the reasons why different results were found and what the results relate to in terms of the health of the creek. Students evaluate how healthy the creek is for plants, animals and humans.
Water for Life
Learn how Australian people use water compared with people from other countries and become citizens of various countries to make decisions on water consumption priorities and managing water with small budgets. Students explore different attitudes to water use and learn about issues associated with small water allowances such as health and hygiene. Students explore the deeper issues of water restrictions and rural communities and consider the available options to managing our own drought striken communities, including desalination plants. Students role play acitivities to understand the community concerns over changes to water restrictions and water management.
What to Bring
Drinks, snacks, picnic lunch etc. Ceres request that we bring a waste free lunch. There is a cafe and an organic shop if you prefer to purchase lunch. The cafe does not offer disposable cups so please bring a 'keep cup' if you plan to purchase a hot drink.
You may also bring old phones or batteries for recycling.
Appropriate gear for the weather (hats, sunscreen or raincoats etc.)
Important Notes:
Only a couple of parents may stay with each group. Siblings not booked in to the programs may not stay with the groups. This is a condition of Ceres. You may wander around the facilities, check out the organic shop, visit the cafe or leave your children and come back ... whatever suits your family.
By booking in for this event you agree that your children remain your responsibility during the activity, you participate at your own risk, and that you have read and agreed to the HEN Event Attendee Guidelines.
Contact Details:
Belinda Cowie 
inspiration4education@gmail.com
This event is currently closed and no contact details are available