Maths Monster (Narre Warren North)

            Thinking Outside The Box
                              Early Bird ends 30 March 2018
                             Closing Date 26 April 2018
This program is now fully booked. Please contact Janine Jenkins on 0429 522 903 or
admin@thinkingoutsidethebox.com.au to add your child's name to the waiting list for this program. 
                                             Maths Monster
Grade 1/2: Maths Monster (Open-Ended Numeracy) - Starting 3 May 2018
What would it be like if the Maths Monster was EVERYWHERE? If the only way to keep the Maths Monster away was to make up and answer heaps of maths questions? You might make up questions like: How long does it take to get ready for school if it takes 10 minutes to get dressed, 15 for breakfast and 5 to brush your teeth? And how many cars do you see on the way to school if you see 7 red ones, 4 blue ones and 9 white ones? OH, NO! What if one of them is a truck? Then if the teacher puts everyone into 5 groups of 4, how many children are there? What if two children are away? How many groups could you have then? If the answer to a question is '6 ice-creams', what could the question be?
When you come to this program you will help to defeat the Maths Monster. The only way is to make up and answer as many maths questions as you can. There'll be a new theme each week. After a while the Maths Monster will begin to get tired. Can you help defeat him before the end of the term? Let's hope so!
Program Information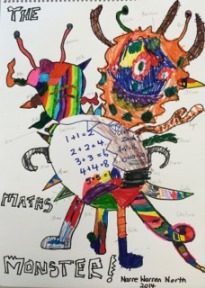 Times:   9:00am - 11:00am                                                                           Day:      Thursdays & Fridays (6 Weeks)                                               Dates:   3, 10, *, 24, 25, 31 May & 8 June                                                    * No Class 17 May NAPLAN
Price with Early Bird Discount: $295.00
Normal Price: $330.00
NB: All prices include GST
NB: Children attending the host school will be given preference on this program if it is over-subscribed.
Venue
Narre Warren North
15-31 A'Beckett Road
Narre Warren North VIC 3804
Teacher
Rhonda Ooi
 
This event is currently closed and no contact details are available