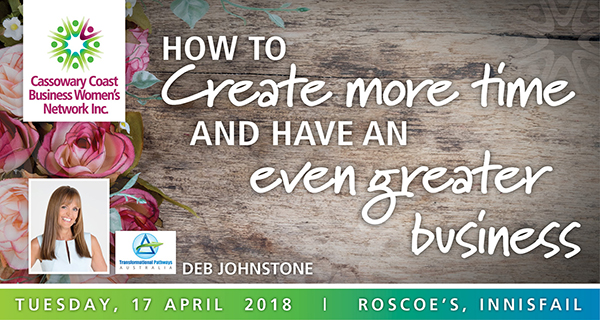 How to Create More Time and Have an Even Greater Business...
Presenter is Deb Johnstone, Transformational Pathways Australia (Cairns).  Deb is an accredited Mindset and NLP coach.  She works with clients to help them develop their mindset and thinking, to create change and achieve higher level results. 
Deb is passionate about helping her clients to achieve their desired outcomes and has worked with people in all aspects of life, including business.
Deb has a background of management in small business.  She is the founder of Transformational Pathways Australia, the creator of a group-coaching program for small business owners, Mindset 4 Business Success and the creator of 'Your Success Plan - Pathway to your Extraordinary Year'.  Deb assists professionals and small business owners to take their life and business to the next level.
Remember to bring your business cards to enter the Business Card Prize Draw
Sapore vVenue: Roscoe's Restaurant, Innisfail
When: 6.30pm for a 6.45pm prompt start.
Cost: Members $35 / Non-members $40
Dinner:    2 course smorgasbord Dinner, Tea and Coffee, Drinks available from the Bar
Please include dietary requirements with your RSVP.
Bookings for attendance at the event are through Trybooking only.  
RSVP Monday 16th April 3pm
If you would like to contact CCBWN about this event, please email bookings@ccbwn.org.au.
Kerryn Thompson, Vice President
This event is currently closed and no contact details are available