RSWWF Event: Madeleine O'Dea with Diana Simmonds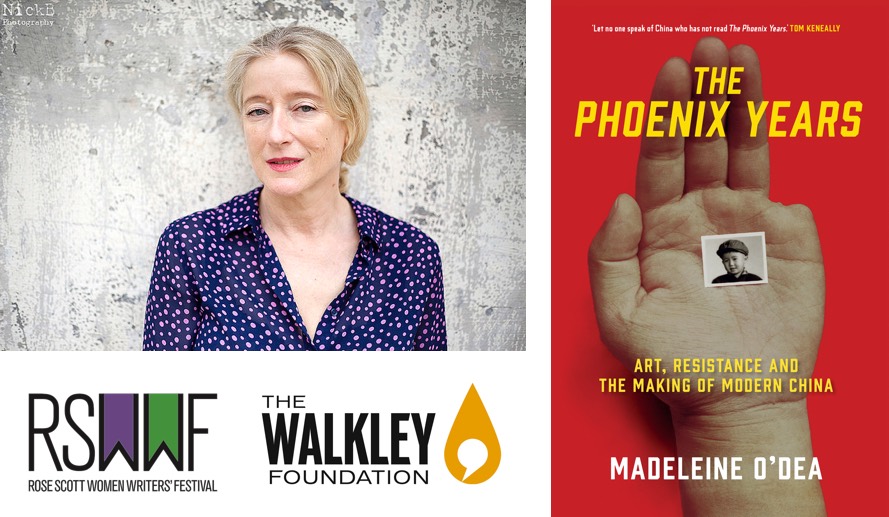 Rose Scott Women Writers Festival in partnership with the Walkley Foundation

Madeleine O'Dea, author of The Phoenix Years, in conversation with Diana Simmonds

'Let no one speak of China who has not read The Phoenix Years': Tom Keneally
The Phoenix Years tells the amazing story of China's rise from economic ruin to global giant since opening up in 1978. As a journalist and foreign correspondent, Madeleine O'Dea has been an eyewitness to this for over 30 years, covering China's political, economic and cultural life, including the explosion of its contemporary art scene and the struggle for freedom of expression.
The Phoenix Years won the 2017 Alex Buzo Shortlist Prize for literary research, was a finalist in the 2017 Walkley Book Award, and was chosen by the Grattan Institute for the Prime Minister's 2016 Summer Reading List.
"Beautifully crafted and immensely readable … based on deeply enriching personal encounters and observations and grounded in completely sound scholarship …The Phoenix Years is required reading for all those who seek to understand how China has stumbled repressively through the past 40 years and how its finest citizens have persisted in trying to imagine a better, freer China": The Australian
"A vibrant portrait of a country's roiling modern history": The Saturday Paper
Madeleine was the Beijing correspondent for The Australian Financial Review in the late 1980s, covered China through the 1990s as a producer with ABC Television and in 2004 became a presenter and editor with China Radio International in Beijing. She later served as the arts editor for the magazine, the Beijinger. In 2010 she became the founding editor-in-chief of ARTINFO China and the Asia correspondent for Art+Auction and Modern Painters magazines.
Diana Simmonds, one of Sydney's best-known and most respected arts commentators and critics, was a judge of the 2017 Walkley-Pascall Award for Arts Criticism. She runs the influential arts website www.stagenoise.com, was a founder member of the annual Sydney Theatre Awards, and co-presents Arts Tuesday, Sydney radio's liveliest and most informative arts show. She has contributed to the Sydney Morning Herald, The Australian, the Sunday Telegraph and ABC 702.
The Phoenix Years will be available for sale in the club's foyer from Better Read Than
Dead.
REGISTRATION
Registration is free but required for set up purposes. An express lunch available from 12.30pm to 1.00 pm may be booked at the same time as registration for $22.50. TWC members may register via the member portal with lunch for $20.00.
DRESS CODE
Smart casual or business wear
SESSION DATE AND TIME
Location
The Women's Club Rose Scott Library
Level 4, 179 Elizabeth Street, Sydney, NSW 
Map
This event is currently closed and no contact details are available