Choir of Newman College Concert Series 2018
The Choir's Concert Series comprises Two concerts held in the magnificent acoustics of the Chapel of the Holy Spirit.  Highlights of past concert series have included Christmas at Versailles, a dinner-concert in collaboration with Maggie Beer, a reconstruction of J.S. Bach's lost St Mark Passion, three productions of Medieval plays, a performance of Tallis's forty-voice Spem in alium, and a number of projects in combination with exponents of Early Music and World Music.
Concert 2 (first performance):
Saturday, November 24, 3:15pm
Concert 2 (second performance):
Sunday, November 25, 3:15pm
Music for the Silver Screen
In the second concert of the College's Centenary year, the Choir explores the treasure trove of vocal music that has featured in movies over the last one hundred years, ranging from the soundtracks of silent movies and the classic movies of the 60s to the telemovies of today.
Featuring music from films such as:
Breakfast at Tiffany's
Empire of the Sun
The Mission
 The Choir of Newman College Recordings:
"Luceat lux vestra" Centenary Recording (1918-2018)
To celebrate the College's one-hundredth year, the Choir of Newman College has made a beautifully-produced Centenary recording. Taking its title from the College's motto, 'Let your light shine', the recording brings to prominence music written over the last five-hundred years for Jesuits courts, institutions and chapels, and settings of texts by Jesuit poets and John Henry Newman, the theologian after whom the College is named. Featured on the recording are anthems and motets by Palestrina, Charpentier, Rameau, Zelenka, Benjamin Britten, Edward Elgar and Christopher Willcock, several recorded for the first time.
"Behind Closed Doors"
The Choir of Newman College's first commercial CD recording, features music written and sung under the increasing threat of persecution in Elizabethan and Jacobean England. The Choir is accompanied by the Australian viol ensemble, Consort Eclectus, and the College Organist, David Macfarlane.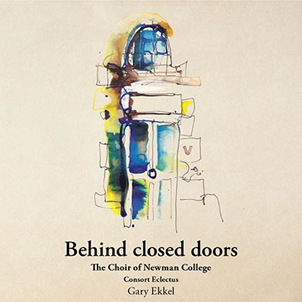 CD Price: $20
CD Postage $3.00
VENUE:
Chapel of the Holy Spirit - Newman College
887 Swanston Street
PARKVILLE, VIC 3052
CONTACT DETAILS:
 Newman Office, Tel. (03) 9347 5577, Email: office@newman.unimelb.edu.au
This event is currently closed and no contact details are available