Boy From Oz Auditions | MLOC Productions
AUDITIONS NOW OPEN


for MLOC Productions October 2018 production of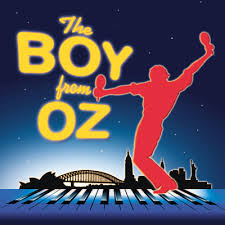 Performance Dates
12-20 October 2018, Shirley Burke Theatre, Parkdale
"My songs are my biography"…Peter Allen
The first Australian musical to conquer Broadway, The Boy from Oz was a huge success here in Australia with multi-award winner Todd McKenney as Peter Allen. The Broadway version was nominated for five Tony Awards in 2004, including Best Musical, and won Best Actor in a Musical (Hugh Jackman).
The Boy from Oz focuses on the extraordinary life of legendary singer/songwriter Peter Allen, from his birth in 1944 in Tenterfield, NSW and humble beginnings growing up in rural Armidale to his meteoric rise to fame as an international star. The story covers Peter's career in Australia and the United States, as well as his relationships with legendary sstars Judy Garland and Liza Minnelli, until his death in 1992.
The Boy from Oz weaves many of Peter Allen's most famous and beloved songs into his life story, including: Not the boy next door, Quiet Please, There's a Lady on Stage, Everything Old is New Again, I Honestly Love You, Don't Cry Out Loud, Tenterfield Sadler, I Still Call Australia Home and I Go to Rio.
We are looking for a cast of 25-30 strong singers, actors and dancers, of varying looks and ages. Other than the role of Young Peter Allen, minimum age for those auditioning is 15 years old.
Director & Choreographer: Rhylee Nowell
Musical Director:  Matthew Hadgraft
 
If you have any questions regarding the auditions,
please contact the audition coordinator by emailing bfoauditions@gmail.com
 
The full information pack and audition form are available below:
**Please ensure you read the information pack throughly as it contains vital information for the audition process, including detailed requirements and some tips from the Artistic Team
AUDITION DETAILS
Singing & Acting auditions (individual closed auditions)
Tuesday 12 June & Thursday 14 June 2018 from 7.30pm at the Parkdale Church of Christ, 176 Como Parade West, Parkdale

Saturday 16 June 2018 from 11.00am at the Mordialloc Presbyterian Church, 12 McDonald Street, Mordialloc
Dance auditions
Sunday 17 June from 1.30pm at Tania Robins Dance Academy, Lower Dandenong Road, Mordialloc
Call backs, if required, will be Thursday 21 June from 7.30pm at the Parkdale Church of Christ Hall
This event is currently closed and no contact details are available