Event Waitlist
Your name has been added to the wait list for this event. The event organiser will contact you through your email address once there are available seats / slots.
First National Coast & Country Kiama Colour fun Run/Walk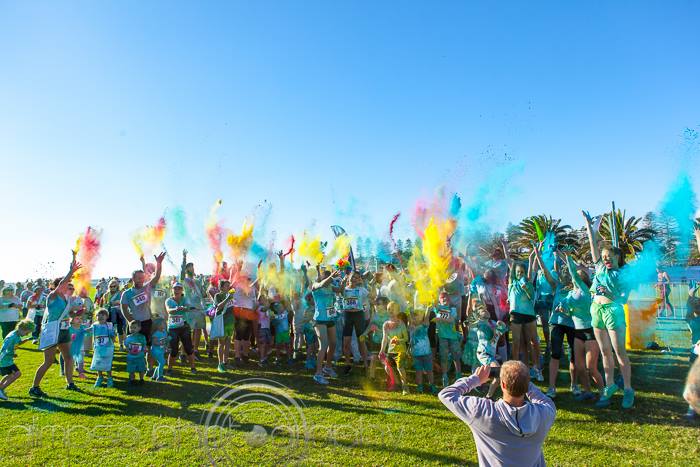 Tickets on the day (Sunday 3rd June) will be CASH  ONLY

 Description

5km colour fun run / walk along the walkway at the beautiful Kiama Harbour, Blowhole & Surf Beach on Sunday 3rd June 2018. Wear white and get covered in a canvas of colour at our colour stations along the course. Fun family day out for all ages and abilities to enjoy.

The 5km social run/walk/skip/roll/stroll aims to raise funds for the Ceili Charity which is a local charity set up to provide assistance to women who are suffering financial hardship through death or potentially life threatening illness.
​The charity is designed to support women and their families in Kiama and the surrounding area. All entry fees will be donated to the Ceili Charity.

This amazing run will take place in the stunning Kiama Harbour, Blowhole & Surf Beach on 3rd June 2018 come & join the fun.

Starts at 8am be there 7.00am for registrations

On Sunday 3rd June 2018

Location

Kiama Colour Run/Walk (Proudly Suporting Ceili Charity Kiama)
Black Beach Reserve, KIAMA, NSW 2533

Contact Details

Susan Hawley 0425 297 937 suziehowdo@gmail.com

Color Run Tips and Tricks

1. DO plan for enough time. If you're going to pick up your race packets the day of the race, leave plenty early. There is likely to be a LONG line, and you will want time to go back and put your things in the car because they don't have a place to check a bag.

2. DON'T worry! The color is non-toxic. Just colored cornstarch, so don't let that worry you.

3. DO bring a ziplock bag for your phone. You will want to take pictures, but you don't want to ruin your phone.

4. DO bring a change of clothes and/or a towel for your car. 4. DO bring a bandana to cover your mouth and nose if you plan to get doused. Wear around your neck during the race, just in case, and afterwards put it on your head kerchief style, which was actually a great way to keep hair clean in the aftermath.

5. DO wear sunglasses. Same deal — it helps keep the cornstarch out of orifices that don't appreciate being invaded by foreign substances.

6. DON'T wear anything too precious. The color may or may not come out of your clothes and shoes so wear old ones that you don't mind getting mucked up a bit. As for your shirt, you can spray it with vinegar and iron in the color if you want to keep it as a souvenir.

7. DO wear white! Most everyone wears a white shirt, and you can go all out with white headbands, shorts, knee socks . . . whatever floats your boat. It's fun to see them go from pristine white to rainbow in a matter of minutes. In fact, if you want, go all out and wear a crazy costume! Why not???

8. DON'T plan to PR. This isn't a race; it's a run. Or, um . . . a walk in the park for many. You can run, but you shouldn't get discouraged if you can't keep up your normal pace. Just enjoy the fun of it and plan to get a real workout the next day. On the flip side, don't worry if you aren't a runner. You definitely do not need to be. You can walk part of it or even the whole thing, and you'll be in good company.

9. DO run with a group. This is a social event, for sure. So get a group together of your zaniest friends and be prepared to act like you're a kid again.

I hope my color run tips are helpful! Feel free to share yours in the comments!

Fun Run Terms and Conditions

DECLARATION
For entrants 18 years and over: By completing the entry form, I certify I have read and accept the terms and conditions for participation in this event.

For entrants under 18 years:  By completing the entry form, I certify I am the parent/ guardian of this entrant who is under 18 years and I give my consent for them to participate in this event.  I accept the terms and conditions for participation in this event on behalf of the entrant and declare them as capable of completing the event they have entered.

TERMS & CONDITIONS

By agreeing to these terms and conditions, entrants release event organisers, from all claims connected with participation. Entrants indemnify the event organiser, sponsors, volunteers, and employees involved in this event directly or indirectly against all liability for any and all injury, loss or damage connected with the entrant's participation.
For an entry to be valid, entrants must complete the entry form, accept the terms and conditions and pay the required entry fee prior to the commencement of the event.
Entry is only valid for the details listed on the entry form and is not transferable.
By entering this event, entrants consent to their personal information being:
.
Entrants consent to royalty-free use of their name, result, image, photographs, video and comments in any publications and marketing in relation to this event by event organisers.
Entrants accept that participation in this event is at their own risk and they accept that participating in this event may involve real risk of injury or death including but not limited to: over exertion, dehydration and accidents with other participants, spectators or road users.
Entrants declare that they are physically fit and capable of participating in this event. They are not aware of any medical condition or impairment that will prevent participation in this event or will affect their health by participation. If an entrant becomes aware of any such condition or impairment or they are injured or sick prior to the event, they have the opportunity to withdraw. All entrants will provide event organisers details of any medical or other condition that may be relevant should medical treatment be required or may affect their participation in the event.
Entrants agree to abide by any advice given by the event first aid officers regarding their health and consent to receive and pay for any medical treatment, including transport by ambulance, required before, during or after the event.
Entrants acknowledge that should they withdraw for a non-medical reason or should the event be cancelled or changed due to reasons beyond the control of the event organisers such as safety reasons or extreme weather conditions, the entry fee is non-refundable.
Entrants acknowledge that refunds or transfer of entries will only be made up to 7 days prior to the event and will only be given for a medical reason supported by a medical certificate. In this case a $5 administration fee will be deducted 
Entrants must wear the official race bib, clearly visible on the front of the torso at all times during the event.  
Entrants consent to follow all directions by event organisers and remain on the designated course as marked and directed by marshalls.
Entrants must walk or run unassisted. Bikes, skateboards, scooters, rip sticks, rollerblades or similar items are prohibited. Those with strollers and non-racing wheelchairs are requested to start from the back of the field. Strollers and similar devices must meet Australian Safety Standards and have appropriate safety restraints.
Pets are not permitted, except in case of assistance dogs.  Entrants with assistance dogs must advise the event organisers upon entering the event.
Entrants indemnify event organisers for any loss or damage to personal property left at the event area or bag drop area.  People leave belongings at own risk.
Course cut off times will apply.  Any entrant who is unable to complete the course by the cut off time may be asked to leave the course by event organisers.
 
Entrants accept that the event organiser's decision is final and that no correspondence will be entered into.
This event is currently closed and no contact details are available