Roseville College Parents' Association
110th Birthday 
Breaking Bread Cookbook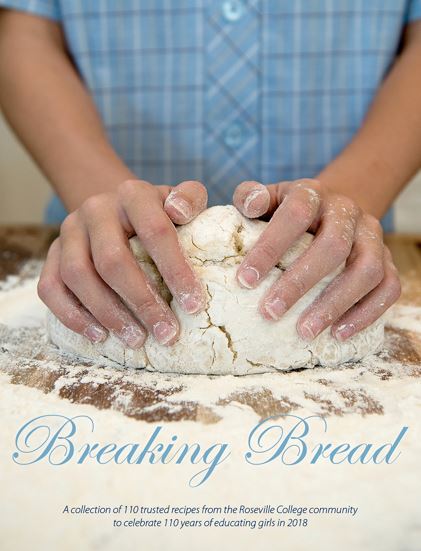 $50 collect | $66.40 post
We are delighted to launch to the Roseville College Community our commemorative cookbook, Breaking Bread; a collection of 110 trusted recipes from our community.
This exciting initiative, instigated by the Roseville College Parents' Association, is now available as a beautiful hardcover publication for families to purchase and cherish.  Throughout the project, Roseville College students have showcased their talents and passion by being involved in food styling, testing recipes, and, of course, by acting as taste-testers of the finished foods!
Breaking Bread costs $50 per book, and is available from Friday 11 May 2018, in perfect time for Mother's Day.  Pre-ordered copies can be posted to your  nominated address (at an additional postage charge), or can be collected in person from Junior School Reception or the Student Services Office.  A copy of the book can also be inspected at Junior School Reception, Senior School Reception and at our Learning Festival to be held on Saturday 26 May, and can be purchased on the day for $50.
Please support the College, its students and the RCPA by pre-ordering your copy now.
This event is currently closed and no contact details are available