RSWWF: Phillipa McGuinness with Catherine du Peloux Menagé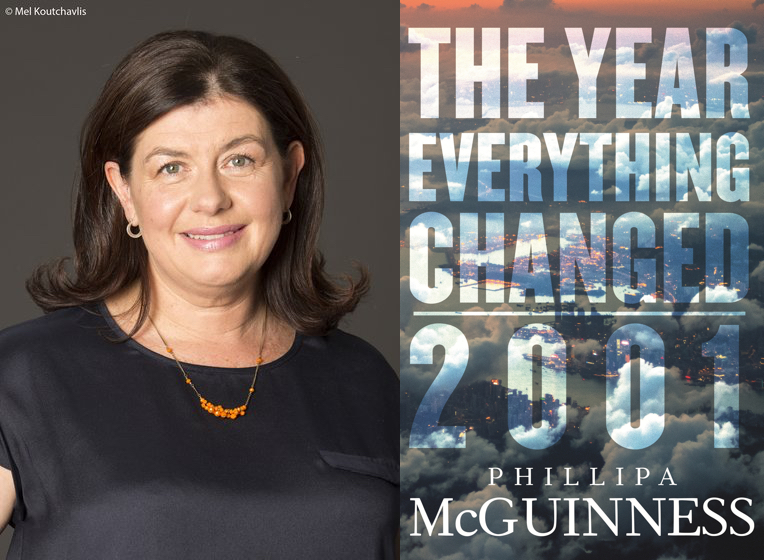 Rose Scott Women Writers' Festival presents Phillipa McGuinness, author of The Year Everything Changed 2001 in conversation with Catherine du Peloux Menagé.
2001 was a momentous year: 9/11 and Ground Zero, the advent of Wikipedia and the iPod, the stolen generation, corporate collapses such as Enron and One.Tel, refugees and Tampa, and Afghanistan just for a start. Phillipa McGuinness and her family suffered their own tragedy, leading her to examine the year in its entirety in The Year Everything Changed 2001, published 28 May 2018.
"A wonderful book … the result of exhaustive research, dispassionate analysis and calm assessment … shot through with idiosyncratic humour, outrage and pathos": The Australian
"A rich, insightful history that grapples with the question of whether everything really did change after that fateful year … A smart, highly entertaining read": Australian Financial Review
"Vivid reportage with an analytic depth that makes one stop and examine one's own prejudices": Sydney Morning Herald
Phillipa McGuinness is an acclaimed non-fiction publisher who has commissioned books of history, politics, current affairs, biography and memoir, many of them prize-winners, for almost 25 years. She is the editor of Copyfight (2015) and has been published in The Guardian, Meanjin and elsewhere. She has appeared on panels, as a chair at writer's festivals, a keynote speaker, at publishing seminars and media and journalism conferences and has talked about culture, copyright and cities on various radio programs over the years.
Catherine du Peloux Menagé was co-founder of the St Albans Writers' Festival in 2015 and was Artistic Director and its Artistic Director from 2015-2018. She facilitated sessions at that Festival as well as at the Sydney Writers' Festival and at libraries around Sydney. She is currently secretary of the Dickens Society of NSW and is involved in programming and organising the 2018 Dickens Fellowship Conference in Sydney.
REGISTRATION
Registration is free but required for set up purposes. An express lunch available from 12.30pm to 1.00 pm may be booked at the same time as registration for $22.50. TWC members may register via the member portal with lunch for $20.00.
DRESS CODE
Smart casual or business wear. No jeans please.
SESSION DATE AND TIME
Location
The Women's Club Rose Scott Library
Level 4, 179 Elizabeth Street, Sydney, NSW 
Map
This event is currently closed and no contact details are available