Junior Registration Terms & Conditions
*Please read*
Registration and full fee payment is due 28 February, 2019 to guarantee team placement.  Registrations will close early if team capacity is reached prior to 28 February with no exceptions.
Registration is required for each player. (Repeat process for each player ie. register player 1 first then complete checkout.  Select link again to register player 2, complete checkout)

Registration and fee payments are via DVUSC trybooking. 

Fee payment options and payment instalments are available via the Club Treasurer only. Cash payments are no longer accepted unless prior arrangement with the Club Treasurer.

Uniforms are included in the registration process and sizes are provided below.  Note that uniform samples are provided at the club for players to try on; please ensure correct selection and ordering of uniform sizes as returns/exchanges are not guaranteed  

In addition to DVUSC registration and payment, all players are required to register with the FFA. FFA Registration is via "Myfootballclub" and will be required once the FFA portal is open in 2019. This is a mandatory FFA requirement for insurance and there is no cost.  You will be notified when the FFA portal is open for registration.
Team Support & Games
Team placement is dependent on final numbers and players may be moved up/down an age group, or moved between teams within the same age group; all efforts are made to ensure players are placed in skill appropriate teams.

In the event that we cannot field a team in a particular age group or accomodate your child, the club will (1) make all efforts to ensure the player is accomodated at another local club which may be in need of players (2) provide a full refund

The club does not have a policy on minimum game time and is left to each coach to manage.  Team selection is left to the coaches' discretion and can take into account several factors including training attendance, player behaviour and attitude.  All coaches' aim to ensure that each player is given as many opportunities as possible to develop and improve.

Parental supervision is required during both training and games.  Children are not to be dropped off at any venue and left unsupervised.  Parents are responsible for their child in the event of accident or injury. The club expects children to behave respectfully and responsibly during training and games.  Poor behaviour will not be tolerated and the child may be removed from the training/game.

Under 14+ boys teams are subject to an additional trial process during preseason training. 

Due to limited spots the club cannot gaurantee spots for these age groups. 

All players selected for these age groups will be selected on numbers & abilities. For example, if the team is playing in a high league and a player may not be at the level required to compete in that league the club will seek to place that player in another team within the club.  If that is not possible then that player's fees will be fully refunded and DVUSC will endeavour to find a place for that player at another local club.

Unsuccessful trial notification will be made by the coach of that team. 

Players may be cut after any session during preseason to allow the player enough time to seek playing opportunities elsewhere
Payment Options:
1. Credit Card Payment made via trybooking
2. To proceed to "Checkout" if paying via EFT enter discount code at the checkout page  : casheft   (Paying via EFT can be done at any time and is not required at the time of checkout so registration can occur without payment - Fees due Mid Feb)
3. Electronic Funds Transfer Bank Details
Account : Diamond Valley United Soccer Club
BSB : 083-784
Acc Num : 66-948-2929
* Enter Players name & Age Group in description field,  Eg John Smith U10
Payment Plans can be arranged via the club treasurer
Please send an email to  treasurer@dvusc.club 
Club specific information can be found on our website
* Guide only
U5-U7 - 2014-2012, U8 - 2011, U9 - 2010, U10 - 2009, U11 - 2008, U12 - 2007, U13 - 2065, U14 - 2005, U15 - 2004, U16 - 2003 etc
Playing Kit includes club full tracksuit, shirt, shorts, socks and club bag
Training Kit includes club shirt, shorts and socks.  Training kit also is used as an alternate clash strip
**New players will need Playing and Training Kits**
**Current DVUSC players have the option to use their current Playing Kit and reduce fees from 2018. N/A for U7s**
**U11 players moving to U12
will receive a new player bag (different style). We welcome recycling your U11 bag if it's in good condition; please hand it in at the Club
Mixed U5-7
$375 includes Playing kit only.  No training kit supplied
Boys U8-11
$500 including Playing Kit & Training Kit
$475 including Training Kit
$630 including Playing Kit & Training Kit
$575 including Training Kit
Junior Girls U10-16
$430 including Playing Kit & Training Kit
$400 including Training Kit
Boys U17+
PLEASE CONTACT SENIOR COACH JIM DAGLARAS ON 0433 375 194
SIZING CHART FOR UNIFORM
Important things to note:
Sample sizes for Playing Tops and Tracksuits are available at the DVUSC Partingtons Flat Club rooms at times that will be widely announced
Make a note of the sizes you require. Orders are placed as part of the on-line registration process

Playing Top and Tracksuit sizes are different, so please measure / try on for both the Playing Top and Tracksuit before ordering

Playing tops and shorts come as a set and, in most cases, the shorts will be the appropriate size for the player. Exceptions are expected to be rare, but can be accommodated

Training Kit sizes will be the taken from the Playing kit sizes.

We do not hold stock of uniform items, so please take the time to order correctly. Better to order the larger size if in doubt.
How to measure for your playing top:
Choose a T-Shirt that you like the fit and lay the shirt flat on a table.
Across Chest Measurement from armpit to armpit
Body Length Measurement from top of the shoulder to the bottom of the shirt
Please note: Playing Top and Tracksuit sizes are different, so please measure / try on for both the Playing Top and Tracksuit.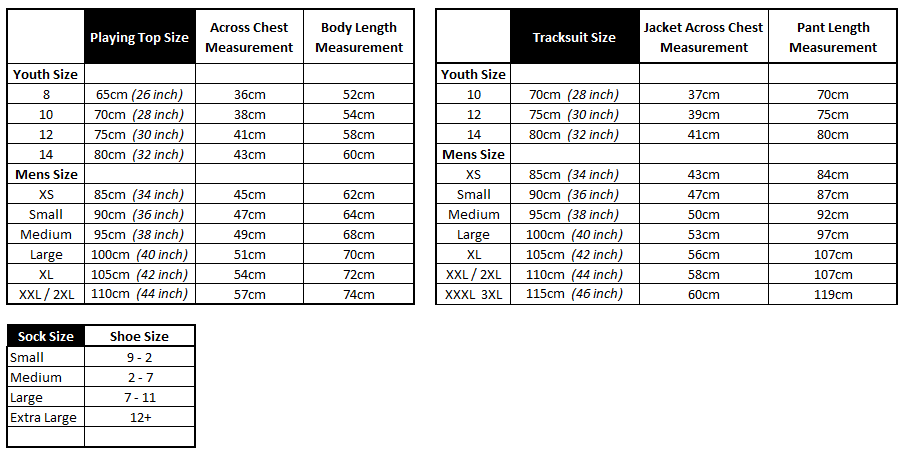 Contact Details:
Rafael Merino
DVUSC Junior Coordinator
Email : rafael.merino@dvusc.club
Phone : 0417 751 588
This event is currently closed and no contact details are available