Shane Matheson & the Immortal Space Hopp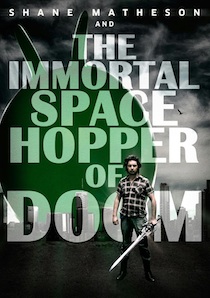 Shane Matheson and the
Immortal Space Hopper of Doom
Winner of the 2012 Jhonsy Award for 'Shane Matheson and his Fabulous Singing Bucket of Gravel'
By day, Shane Matheson is the most civil of civil servants.
By late afternoon he is an absurdist and tone-deaf comedian.
But for two weeks in April, Shane Matheson will be a hero.
Join Shane on this barely-sensical, epic tale that is Shane Matheson and the Immortal Space Hopper of Doom. Check your conventional sense of reality and constructs of time at the door.
THE DETAILS

Venue: Tuxedo Cat, 17 - 23 Wills St, Melbourne

Dates: 11 April – 21 April (not Wednesdays)

Tickets: $18 full / $15 conc. And groups 6+ / $10 Tight-Arse Tuesday

Times: 10:45pm (9:45pm Sundays)
ONLINE BOOKINGS CLOSE AT 2PM ON DAY OF SHOW
This event is currently closed and no contact details are available