PARISH FORUM - IMPLEMENTING LAUDATO SI' -
Transforming Communities


Saturday 15 September 2018: 9.00am for 9.30am - 1.00pm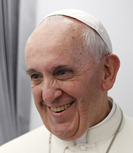 Since Pope Francis' encyclical was addressed "to all people on the planet" in 2015, parishes have found it challenging to put into practice. How are we to achieve a change of heart, how to treat each other better, especially those on the margins? You are invited to join other parishes to address what steps can parishes take to respond to the Pope's letter and improve our care for our common home, the Earth?
What resources are available, how can parishes help each other in responding to the Pope's call?
Come as a team from your Parish.  Download flyer and program here
Venue: Catholic Parish of Greater Box Hill, St Francis Xavier Church, 1087 Whitehorse Road, Box Hill (car parking available on site and on Whitehorse Road)Cost: $30.00 (includes book and light refreshments)
RSVP: 12 September 2018
Please advise of any special dietary requirements.
This event is currently closed and no contact details are available