AN INTERDISCIPLINARY TEAM APPROACH TO CHILDREN'S AIRWAY HEALTH
Paediatric Dental Sleep Medicine Course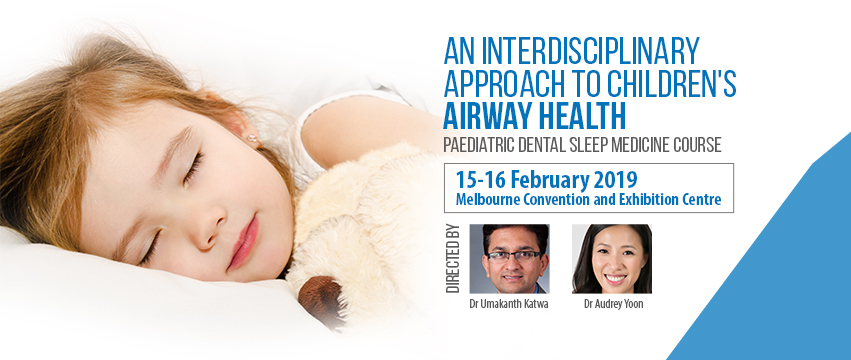 This 2 day course directed by medical and dental experts from leading interdisciplinary sleep medicine institutions will provide an overview on normal sleep maturation, respiratory physiology and craniofacial development in children. 

Participants will be equipped to identify and offer timely referral when problems are occurring. They will be able to discuss the various treatment pathways available to address specific risk factors for more effective management and to minimise the development of lasting morbidity. 

This course promotes a team approach to screening and management and is open to all dental, medical and allied health professionals. 
COURSE DIRECTORS
Dr Umakanth Katwa - Paediatric Sleep Physician and Director of the Sleep Lab at Boston Children's Hospital/Harvard 
Dr Audrey Yoon - Paediatric Dentist, Orthodontist and Sleep Apnoea Research Team Member with Stanford Medical Centre 
INVITED SPEAKERS
Dr Jeff Rouse (via Zoom Live) - Prosthodontist and Faculty Member of Spear Education teaching Airway Prosthodontics 
Dr Kevin Boyd (via Zoom Live) - Paediatric Dentist and Dental Consultant for Lurie Children's Hospital Sleep Medicine
Rochelle McPherson - Oral Myologist,  Director and Lecturer for the Australian Academy of Orofacial Myology
Dr Rosalba Courtney - Osteopath with PhD in Breathing
TOPICS INCLUDE
Maternal Snoring and OSA: Impact on the Fetus
Normal Sleep and Breathing Physiology in Children
Structure, Function and Stability of Upper Airways: Role in Paediatric OSA
Impact of Disordered Breathing on Craniofacial Growth and Health
Phenotyping Paediatric OSA  - Precision Diagnosis and Management 
How to Screen for Paediatric SDB in Your Office
Diagnostic Modalities and Challenges in Evaluation of Paediatric OSA
Role of Soft Tissue Surgery and Drug Induced Sleep Endoscopy in Children
Growth Modification Therapies: Role of Orthodontic Interventions and Case Reviews from 2 Year Olds to Young Adults
How to Integrate Myofunctional Therapy
Ankyloglossia: Role in Craniofacial Development and OSA and Frenum Surgery Techniques
Paediatric Sleep Bruxism
How to Build a Multidisciplinary Team 

Click here to find out more about the speakers, program and cancellation policy
15-16 February 2019
8:30am - 5:00pm Friday and Saturday 
Melbourne Convention and Exhibition Centre
South Wharf, Melbourne
This event is currently closed and no contact details are available