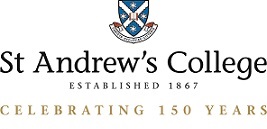 St Andrew's College DRAMSOC Presents
"Noises Off!" by Michael Frayn
 
In 2018, DRAMSOC will be performing Michael Frayn's hilarious "Noises Off!". 
A clumsy bombshell; a pompous director; an addled actor. It was never going to be easy staging a bedroom farce on tour, with a mediocre cast, but this is complete pandemonium! On stage, it's a whirl of slamming doors, missed cues, dropped lines and dropped trousers. Backstage, it's a chaotic maelstrom of love triangles and trampled egos, and there's no one without an axe to grind…or swing.
The cast and crew are excited to show you what they've put togeher, hosted in the St Andrew's Dining Hall!
Dates: 19th-22nd October 2018
Time: 7:00pm
Tickets: Adult - $25, Student - $15
Location: Dining Hall, St Andrew's College - 19 Carillon Avenue, Newtown NSW 2042
Grandparents' High Tea
Date: Sunday, 21st October 2018
Time: Matinee - 1:00pm, High Tea - 3:00pm
Tickets: Pensioner - $20, Student - $15, High Tea - $45, Matinee & High Tea - $60 
This event is currently closed and no contact details are available