RoundSquare Productions proudly present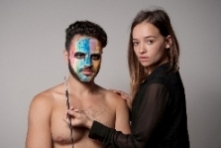 THE SHAPE OF THINGS
Directed By Peter Blackburn
How much are you willing to change for someone you love?

After a chance meeting in a museum, Adam begins an increasingly intense affair with the enigmatic Evelyn who is gorgeous, intense... and way out of his league.
Under Evelyn's influence, Adam blossoms into the ideal boyfriend and an all-round better man. So why do things spin so radically out of control?


Neil LaBute's
powerful work
bluntly asks; How far would you go for love? What would you be willing to change? ...and what price would you be willing to pay?
The Shape Of Things
peels back the skin of modern day relationships and challenges our very notions of love, identity and truth.
"LaBute is the first dramatist since David Mamet and Sam Shepard - since Edward Albee, actually - to mix sympathy and savagery, pathos and power. The Shape Of Things continues his fascination with the power games men and women play."
(New York Post)

"LaBute continues to probe the fascinating dark side of individualism. His great gift is to live in and to chronicle that murky area of not-knowing, which mankind spends much of its waking life denying."
(The New Yorker)
Directed by Peter Blackburn
Performed by Josh Blau, Emily Wheaton, Nick Brien and Steph Lillis.

7 – 24 March


Preview 7 March 8pm


Mon – Thurs 8pm, Sat and Sun 4pm


Tickets: $30 Full, $25 Con and $20 preview.


Enquiries: 0427 832 299 and roundsquareproduction@gmail.com


Venue:

No Vacancy Gallery – QV Building,

34-40 Jane Bell Lane, Melbourne






This event is currently closed and no contact details are available