2018 WELCOME TO WONDERLAND EOY PRODUCTION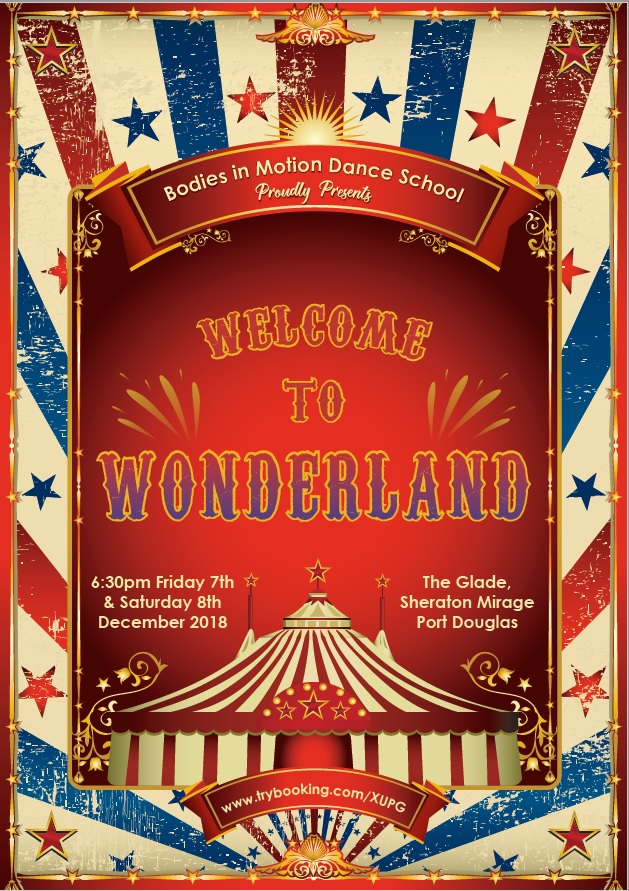 "Ladies & Gentlemen, Boys and Girls… children of all ages… step right up, step right up… Behold the most amazing show on earth! You won't believe your eyes… prepare to amazed as you are about to witness breathtaking acts, intriguing illusions and death-defying stunts…
We welcome you to … Wonderland!"
SYNOPSIS
Act 1
Our story starts with a dazzling Circus Ringmaster and her marvelous 'Wonderland' big top. People travel far and wide to witness all the magic that 'Wonderland' has to offer. One day, The Ringmaster sets off into the local township to run some errands, where she meets two young children from a nearby orphanage. Looking to earn an extra few cents, the children try their luck at selling her a newspaper. The ringmaster is humbled by the orphan's spirits and instead offers them a job working backstage in the Wonderland big top. Absolutely over the moon, the children jump at the opportunity and get straight to work. Along the way, the two children get to see firsthand all the amazing acts that are a part of the infamous 'Wonderland 'Circus…
Act 2
We now fast forward 10 years, where our two orphans aren't so little anymore...  From living in an orphanage and selling newspapers on the street, they had spent the last 10 years growing up inside the walls of 'Wonderland' with their new circus family! Sell out shows and rave reviews continued to flow and the show was still a huge success, even after all these years! But still, the Ringmaster was determined to expand and keep creating new acts. And so, she decided to hold auditions, offering performers the chance to join 'the greatest show on earth'. Remarkable acts from13x different countries travelled the seven seas to audition to be part of the magic that is 'Wonderland'. The Ringmaster successfully selected the finest performers in the world to join her team. However, just before opening night of their new show, one of the acts fell ill… The Ringmaster decided to call on the two children to take their place. It was time for them to step out of the shadows and into the spotlight… can they pull it off?
Audience Etiquette:
Theatre doors are closed during the performance, only opening on odd occasions during applause.

Movement around the auditorium is not allowed during performances, so as not to disrupt our dancers and videographer/ photographer. You will be asked to wait outside or at the back of the auditorium until an appropriate time to move.

We ask audience members to switch mobile phones off during the show.

In accordance with the national child safety laws, the use of cameras and recording devices is strictly prohibited. Professional photos and videos of the show can be ordered through the office. Please do not be offended if you are asked to put away your recording device.

CONTACT DETAILS: JODY PITT OR SASKIA TURNER 0740983921 INFO@BODIESINMOTION.NET.AU
This event is currently closed and no contact details are available