SUNDAY AFTERNOON CINEMA AT CTC@ROBERTSON
The Community Technology Centre at Robertson presents
Bea Cinémathèque
Sunday Afternoon Cinema at CTC@Robertson
Séraphine  
directed by Martin Provost
Starring Yolande Moreau and Ulrich Tukur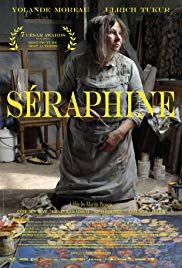 Country: France/Belgium  Language: French with English subtitles
Release Date: 2008
Runtime: 2hrs 5 minutes Colour: Colour  Classification: PG
Séraphine is a French-Belgian film directed by Martin Provost and written by Marc Abdelnour and Provost. It stars Yolande Moreau as the French painter Séraphine Louis and Ulrich Tukur as Wilhelm Uhde. It won the 2009 César Award for Best Film.
Soon-to-be-legendary primitivist painter and outsider artist Séraphine "de Senlis" Louis (Yolande Moreau) toils as a maidservant in the homes of the bourgeoisie in Senlis, France. For decades, Louis harbors a secret passion for painting in the evenings after work -- one that is discovered serendipitously by renowned German art collector Wilhelm Uhde (Ulrich Tukur). Taken by the woman's enormous talent, Uhde becomes determined to bring Louis' art to the world -- and to change her life.
Sunday 16 September 2018 at 2.30pm
Cafe opens at 2.00 pm for tea and coffee.
Tickets $10 adults (CTC fundraiser). Children 16 and under free
Bookings recommended.
info@robertsonctc.org.au  ph: 4885 2665
Venue
CTC@Robertson
58-60 Hoddle Street
Robertson, NSW 2577
Contact Details:
info@robertsonctc.org.au  ph: 4885 2665
This event is currently closed and no contact details are available