FC Birrarung Summer Development Program 2018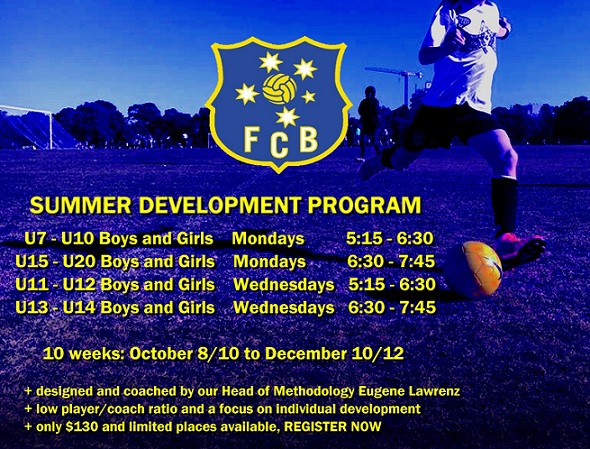 Dear FCB Players and Parents,
We hope you enjoyed the 2018 winter season.
In response to feedback on how the club can improve, a lot of enthusiasm about the idea from players and coaches, and the success of our first ever Winter Development Program, FC Birrarung is excited to announce that it will be running a Summer Development Program for all age groups across the club for the very first time.
The program will go for 10 weeks between October and December at Princes Park on Pitch 7 (very southern end past the AFL field).
WHY REGISTER FOR THIS PROGRAM?
Stay fit and keep enjoying football over the summer
Develop your skills and decision making in a lot of game-based activities with an FFA A-Licence coach
Low player/coach ratio and a focus on individual development and fun
Make new friends (friends of FCB players are welcome to register too)
The fee averages out to only $13 per session which is a lot cheaper than most academies and other similar programs
AVAILABLE SESSIONS
Boys and Girls born in 2008, 2009, 2010, 2011 and 2012    -  Monday 5:15-6:30pm
Boys and Girls born in 1999, 2000, 2001, 2002 and 2003   -  Monday 6:30-7:45pm
Boys and Girls born in 2006 and 2007                                      -  Wednesday 5:15-6:30pm
Boys and Girls born in 2004 and 2005                                      -  Wednesday 6:30-7:45pm
Depending on the overall number of registrations received, and in particular the number of goalkeeper registrations, specialist goalkeeper coaching may be provided as part of this program, however at this stage it cannot be guaranteed.
Players should wear their white FC Birrarung playing shirt to all sessions.
FFA REGISTRATION REQUIREMENT
Please ensure you have your FFA registered player number for 2018 ready before commencing the booking process. This is mandatory for insurance purposes.
If you are not a registered player this Winter season from any club please click the link below and follow the steps to register. The cost is $20 and covers insurance in the unlikely event of injury  -  Self Registration To FFA
FC Birrarung Summer Development Program 2018
Only $130 (+ 30c per ticket) and limited places available, REGISTER NOW
Due to the limited places available, it is important that players who register for this program commit to attending all sessions and are also punctual to avoid disrupting their session by arriving late

Note: unfortunately we are unable to offer any discounts or scholarships for this program at this time
Location
Crawford Oval, Pitch Number 7
186 Royal Parade, Carlton North, VIC 3054
This event is currently closed and no contact details are available