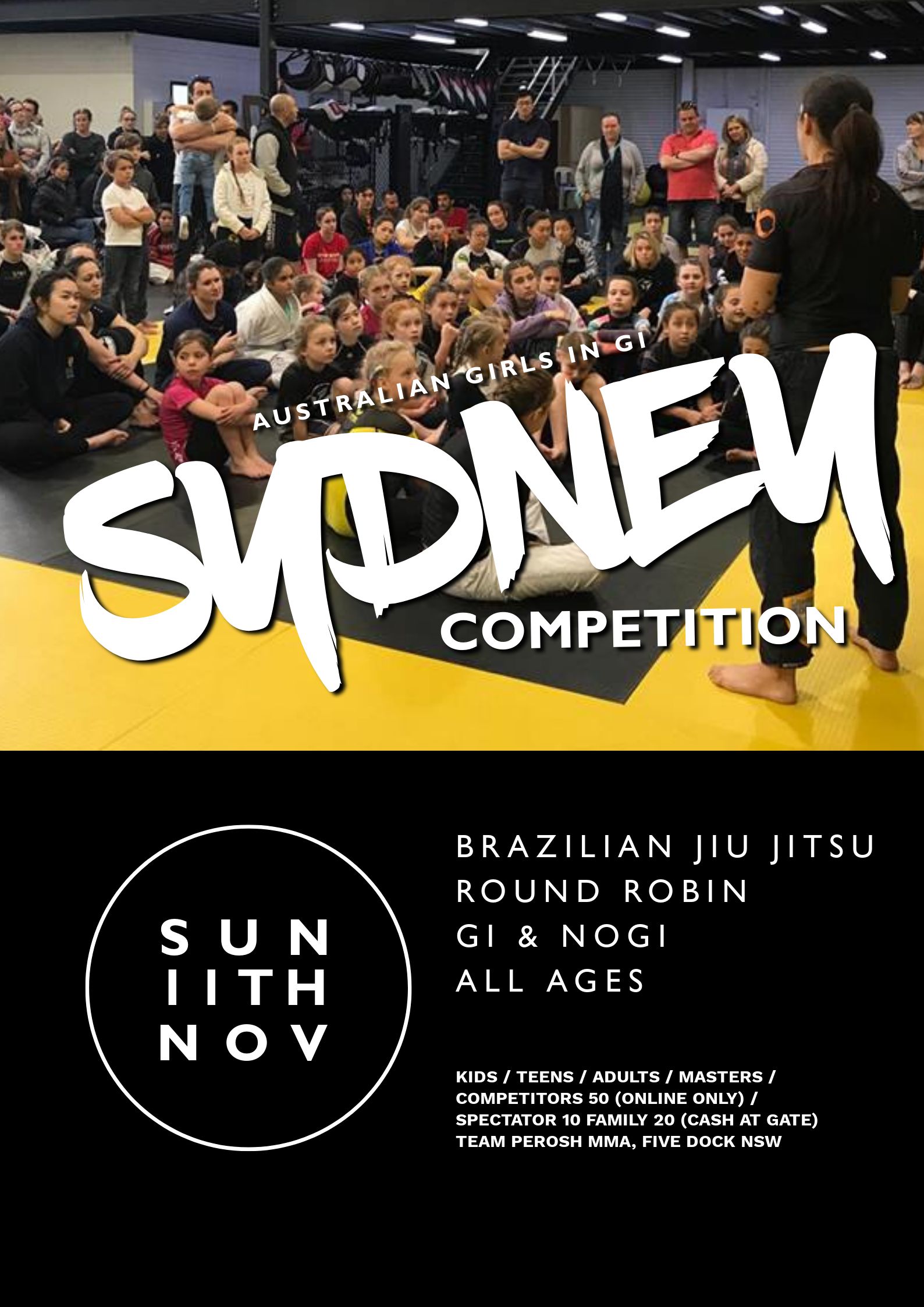 Location
Team Perosh Mixed Martial Arts
97 Queens Rd , Five Dock, NSW 2046
The Australian Girls in Gi  FEMALE ONLY JIU JITSU COMPETITION
 
Female only competition
Gi & No Gi (optional) for all ages
All welcomed audience (friends, family, coaches and team mates encouraged)
All ages from 5+ welcomed
All gyms and affiliations welcomed
FURTHER INFORMATION:

SPECTATORS: 
$10 cash at gate, $20 per family.

DIVISIONS:
Gi Round Robin
Adults: 4x 6 min matches each = 5 competitors per division*
Juniors: 3x 4 min matches each = 4 competitors per division*
No Gi Round Robin
Adults: 4x 6 min matches each = 5 competitors per division*
Juniors: 3x 4 min matches each = 4 competitors per division*

* max. matches per person, dependent on entries.

RULES:
Match rules & guidelines as per IBJJF handbook


REGISTRATION CLOSES:
9:00pm Friday prior to Sunday event

SUNDAY SCHEDULE:
9:00am    Doors open/Arrivals
9:00am    Gi & No Gi weigh ins commence/arrivals
9:30am    Weigh ins for No Gi close
10:00am  Information Session speeches, mat allocations.
10:00am  No Gi matches commence
11:00am  Gi weigh ins close
TBC:        Gi matches commence at completion of ALL No Gi matches

Please note: we cannot release exact start times for your matches though we will endeavor to run the competition as quickly as possible and keep you informed throughout.

FAQs:

COMPETITION FORMAT:
Our tournament is a ROUND ROBIN format. This means competitors continue to have matches regardless of match out come.
Adults are grouped with 4 other athletes closest to their size & in their relevant belt. They will have a match with each of the other women in their group, regardless of wins or losses.
Children are matched with 3 other athletes and are matched first by size and then by belt where possible. Round robin applies to both adults and children.
 
Entry includes both GI & NO GI divisions for masters,adults, teens and children.
Participation in one or both is by OPTIONAL during online registration.
Adult matches are all 6 minutes
Junior matches are all 4 minutes.

Winner of each match is decided by IBJJF standard rules as follows.
Points are awarded during the match as per the IBJJF rules.
No advantages are awarded. No penalties are awarded.
IBJJF POINT STRUCTURE (DETERMINES MATCH OUTCOME):
4 points – back control with hooks
4 points – mount
3 points – establishing a controlled position after passing a guard
2 points – sweep
2 points – takedown/throw
HOW TO WIN THE DIVISION = WIN/LOSS/DRAW TALLY
During the ROUND ROBIN, the athlete with a match tally overall closest to 12 is deemed the winner. 
Tally is calculated as per below:
WIN MATCH BY SUBMISSION = 3
WIN MATCH BY POINTS = 2
MATCH IS DRAW = 1
LOSS = 0
WEIGH IN:
Each competitor is grouped to those closest to their weight (checked upon arrival).
This means you are not adhering to pre set weight division.Your division is the group of athletes most weight appropriate for you that have also registered for your belt & age group.
BELT/AGE CATEGORIES:
Adult ladies will be seperated into white, blue and purple plus.
Junior ladies will be grouped acording to weight only. All belts together.
Masters at special request.

BRACKETS:
Created based on your weight upon arrival. We have noted your aproximate weight durnig registration for admin purposes only. Weigh in on arrival determines your division on the day.

BRACKETS RELEASED:
Once created, after your arrival & weigh in, prior to commencement of matches. Not available prior to Sunday event.
This event is currently closed and no contact details are available