BoHo Interactive: WORD PLAY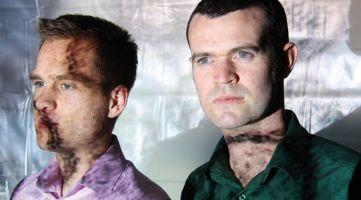 From their art-science residency with CSIRO, innovative Canberra performance group BoHo Interactive are staging a season of the biosecurity-themed and audience-driven performance piece: Word Play.
Something is wrong. In the last two years, a new disease has emerged that is transmitted not by water, by air, by contact – but by speech. Language. Via text messaging and email, telephone or video. This disease attacks thought itself, undermining our ability to think critically and resist other people's influence. This is an epidemic of harmful ideas and broken logic. And it's spreading.
So runs the scenario Canberra theatre ensemble Boho developed for their new immersive theatre experience, to be performed on-screen from across the city. The audience are situated in the CSIRO Discovery Centre lecture theatre, while the performers are live-streamed from a laboratory across the city using a high-speed video broadband connection.
Using text messages and a purpose-built phone app, the audience are able to interact directly with the performance, communicating with the performers and controlling them through a series of live computer game sequences.
Word Play is a performance lecture exploring concepts from epidemiology, a live cinema experience and a hands-on video game in the survival horror genre.
Bring your phone.
"BoHo Interactive are a wonderful collective of talented young Canberrans and, having seen a sneak peak of Word Play in progress, I'm very excited about how they're approaching a range of complex science and technology issues," says Cris Kennedy, Director of CSIRO Discovery.
Since forming in 2006, Boho's Michael Bailey, Jack Lloyd and David Finnigan have presented interactive cross-artform performances to festivals, theatres, science conferences and schools around Australia.
Word Play combines Boho's unique style of interactive theatre with the world of film. For this project, Boho have welcomed on board director Marisa Martin, a film-maker and head of the Lights! Canberra! Action! film festival. Marisa says of the play, "As a filmmaker, the use of cameras in the production really appeals to me and throwing in interactivity makes for an exciting storytelling environment I've not been able to explore before. It should make for a highly engaging experience for the audience."
Cost: $20
When:
Wed 15 - Sat 18 May
Wed 22 - Sat 25 May
Wed 29 May - Sat 1 Jun 2013
All shows start at 7.30 pm
Where:
CSIRO Discovery Centre Theatre
North Science Road, Black Mountain, ACT 2601 map

More information:
CSIRO Discovery Centre
Ph: (02) 6246 4646
Email: info.discovery@csiro.au
This event is currently closed and no contact details are available