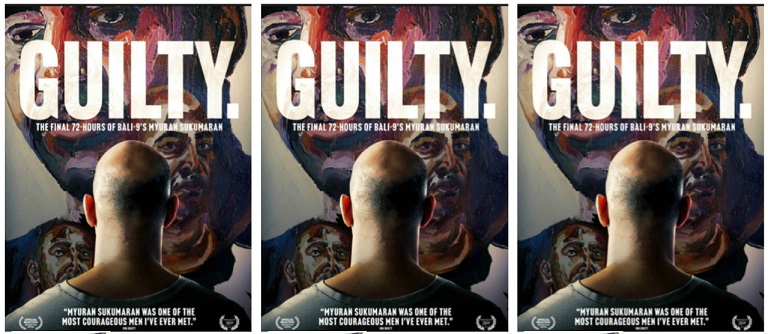 The Castlemaine Documentary Film Festival (CDOC) is proud to present a special event screening of the film GUILTY on Wednesday 10th October 2018 at 7.30pm at the Phee Broadway Theatre in Castlemaine.
GUILTY is a very powerful and moving Australian-made feature documentary showing the final 72 hours in the life of Myuran Sukumaran, one of the Bali 9. Myuran was executed by the Indonesian authorities on 29th April 2015 along with fellow Australian Andrew Chan, but whilst on death row he became an accomplished artist under the guidance of Ben Quilty.

Seamlessly blending creative segments and archival footage, GUILTY shows us the last 72 hours of Myuran's life through his outpouring of self-portraits, and how ultimately, he entered prison as a criminal and left it as an artist.

Wednesday October 10th is the sixteenth annual World Day against the Death Penalty. From sunrise to sunset there will be thousands of supporting events and cinema screenings across the globe, so please join us and make your voice heard at our screening of GUILTY here in Castlemaine. In order to really engage with both the issues and with Myuran as a character, we will be having an audience Q&A and discussion before the film. This will be led by Guardian journalist Brigid Delaney, co-founder of the Mercy Campaign which fought for clemency for Myuran and Andrew and brings an in-depth knowledge to all of the key issues.

GUILTY has been nominated in the Best Documentary category at this year's AACTA awards, and is also a finalist in the ATOM awards.
Presented with Savage Films, Reprieve Australia and AIDC.
Phee Broadway Theatre
Mechanics Lane
Castlemaine  Vic  3450
hello@cdocff.com.au
Geoffrey Smith - Festival Director
Denise Button - Publicist
0413 563 404
This event is currently closed and no contact details are available