BREATH @ Bodhi 14th April 2013
Breath

:
a beautiful trio of breath-based musicians
Anne

on shakuhachi (flutes)

Sanshi

on didgerido

Reo

on beatbox, chant, bells
Evocative sound-scapes burst into rhythms that make you want to dance...
VENUE:
The Bodhi Tree
Cnr Oxford St & Scarborough Beach Rd
Mt Hawthorn
Perth, WA 6016
DATE: Sunday April 14th 2013 at 6pm (finishes by 8pm)

The trio BREATH was born at the Bodhi Tree last year in two sold out concerts of intuitive music-making. Once again these artists converge momentarily on Perth and the fabulous Bodhi Tree.

A contemplative combination of textures and sound colours: haunting melodies singing through the shakuhachi... mesmeric pulsing drones from the didgeridoo... playful soundscapes and driving rhythms from Reo's mysterious mouth!

pre-book for a discount... click the button on the bottom RH corner
adult $30; double $55; child $15; group $200 (10 people)
People paying on the night will be charged $35, regardless of the size of your group.
So book ahead, confirm a place, and get a discount for bringing a friend! Places are limited to 80 max.

CONTACT DETAILS:
Anne - anne@annenorman.com
Bodhi Tree - (08) 9444 9884
Didgeridoo Breath - (08) 9430 6009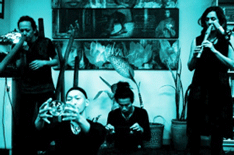 For video clips of Breath at Melbourne Didge Fest 2013

For YouTUBE clips of Breath in Perth 2012:
This event is currently closed and no contact details are available