CPD | Newcastle: Demystifying Affordable Housing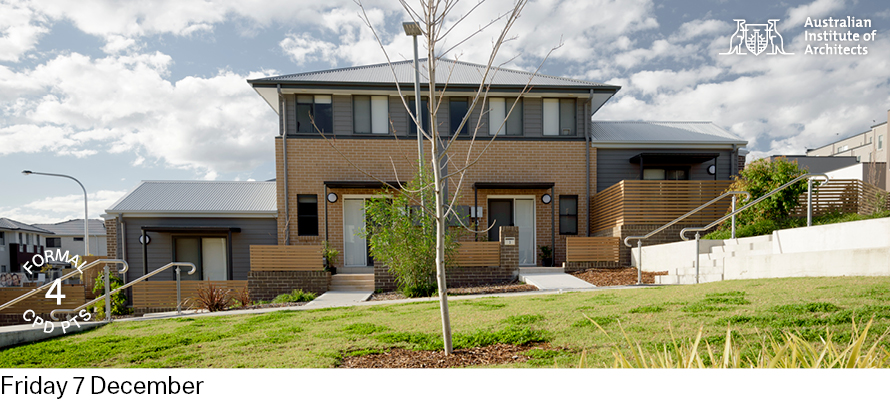 4 formal CPD points (AACA Competencies: TBC)  
How can architects help make housing affordable for middle to low income Australians? What are the risks absorbed by landowners and investors to keep long term rents and profits low? 
This 4 CPD point event will explore diverse financially successful housing models that might offer a key to unlock affordable housing supply in NSW, investigating elements of the housing affordability puzzle including:
•    Not-for-profit housing typologies
•    Successful procurement models
•    Cooperative and community housing challenges 
•    The role of government.
This seminar is relevant for architects, urban designers and local government representatives committed to understanding the challenges and opportunities for success in providing affordable housing.
Curator Jodie Dixon - Jodie Dixon Architect
Image: Potts Hill Development by Kennedy Associates (photo: Ben Guthrie / The Guthrie Project)
– 2.30pm
SPEAKERS & TOPICS
Exploring not for profit affordable housing typologies | Michael Zanardo – Director, Studio Zanardo
Studio Zanardo specialises in affordable housing and urban design. Michael is a design review panellist for City of Sydney and Ku-ring-gai councils, a consultant design manager to Bridge Housing Limited and provides design advice to the NSW Land & Housing Corporation. He combines practice with research and teaching and has recently completed a doctorate investigating the design of pre-World War II State workers' housing in Sydney.
Design and procurement of affordable housing | Anthony Nolan – Architect Practitioner, Kennedy Associates
Anthony has over 20 years of experience in delivering projects with a strong focus on accessible, social and affordable housing solutions for a range of government, not for profit and private developer clients. Anthony is currently looking into innovative housing solutions, including the use of pre-fabricated modular construction as a possible contribution to addressing affordability.
Confronting the affordable housing crisis | Jodie Dixon – Jodie Dixon Architect and Karen Deegan – Director, Built For Good Pty Ltd      
Drawing on their experience in co-housing, government and community engagement, Karen Deegan from co-housing consultancy Built for Good and architect Jodie Dixon will lead the opening session to explore the place for architects in the affordable housing crisis.
Partner talk: Flooring solutions for residential applications | Gary Washbourne – Polyflor
Major Regional Partner

TICKETS
A+ member $70.00
Member $80.00
Student member $40.00 | Student non member $60.00
Graduate member $55.00 | Graduate non member $85.00
Non member $135.00
LOCATION
Hunter Design School
67 Parry Street, Newcastle West, NSW 2302
Contact Details
Australian Institute of Architects / nswevents@architecture.com.au 
This event is currently closed and no contact details are available