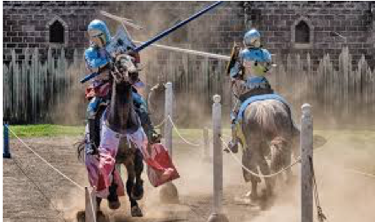 Medieval Camp
Tuesday 2nd (evening) to Saturday 6th of April, 2019
Kryal Castle, 12 Forbes Rd, Leigh Creek
Bookings close Thursday 7th of February, 2019
Important Notes:
I have provided lots of options to cater to the needs of as many families as possible. This means that there is a lot of information to consider. Please read through everything carefully.
Late bookings will not be accepted.
I may be able to refund your place if you cancel before the 7th of February and we are still able to meet minimum numbers.
There will be no refunds after the 7th of February.
Changes to your booking, arrival times, groups or activities may not be possible. 
Please book your accommodation and catering early because it may book out.
You may book tickets for all other activities later (but before 7th of February). Kryal Castle can manage large groups and these tickets are not likely to book out.
By booking in for this event you agree that your children remain your responsibility during the camp, you participate at your own risk, and that you have read and agreed to the HEN Camp Guidelines.
Your family members will behave in a safe and respectful manner and will follow reasonable instructions from venue staff and camp leaders.

Costumes:
Costumes are optional but encouraged! We would love for you to make and wear medieval costumes. Most families go to a lot of effort with their costumes and it helps to create a great atmosphere. Costumes are optional though so feel free to come in casual, everyday clothes if you prefer. 
Activities:
There will be structured activities on offer from Tuesday evening until Friday afternoon. All activities are optional so you can join in as much as you like, or take a break, have some quiet time or wander around and explore on your own.
Activities on offer include tools of the trade, needlework, leatherwork, apothecary, Noble life, medieval dancing, theatre school, sword fighting, a re-enactment of the Battle of Hastings and more. There will be a bird of prey show, a skill at arms display and a live joust.
We will also have optional evening activities such as a pantomime style theatre show and a medieval dance. Students will have the opportunity to learn some medieval dances during their daytime workshops and then we will perform them in the evening (like a bush dance but set in medieval times!).
There is an option to attend for Friday only. This way you can join in on some of the fun at only a fraction of the cost. If you choose to attend on Friday only then you will only be able to do the activities on offer for that day for your group. You will need to fit in with a group where there is space so you may not have the opportunity to choose your group or be with friends.
All families booked in for the camp activities will receive a free pass to return on Saturday and explore the grounds at their leisure.
Groups:
Each student will be allocated to a group. After bookings close and numbers are finalised, I will set up a google spreadsheet (like we did for the Swan Hill Pioneer Village). You will be able to add your students into the group you choose.  There will be limits on group sizes and sometimes changes may need to be made. I will do my best to keep your students in the group they have chosen (with friends and/or siblings) but there are no guarantees. 
There will be at least one group for teens.
You are not required to stay with your group. You can take a break from the structured activities whenever you need to. Please let your group leader know if you are leaving early or arriving late. If you miss an activity with your group you will not be able to make it up another time.

Accommodation and Catering:
You can choose the accommodation option that suits you best. Stay at Kryal Castle with us or book at another location of your choice.
Options at Kryal Castle include camping  and dorms (book through trybooking by clicking on the 'book now' button above) or hotel style rooms (which you can book directly through Kryal Castle's website).
Click the yellow 'book now' button above to find out more about accommodation options and costs.
If you stay at the castle you have the option of booking catering. A range of dietary options can be catered for (gluten free, dairy free, vegan, vegetarian, organic, keto, FODMAP etc). Click 'book now' above to find out more.
Accommodation and catering options may book out so please book your tickets soon.
Volunteer:
This camp is a HUGE undertaking! It will only be possible through the support of our wonderful community. Please help make this camp possible by volunteering a representative from your family. Roles can be filled by a parent, grandparent, older teen etc. 
There are big tasks and little tasks, people roles, creative roles, and practical roles. There are things you can do before camp, during camp or after camp. You should be able to find something that works for your family. 
Booking Tickets:
1. Entry and Activity Passes
Please decide if you will join us for one day or 3 (each option comes with a free entry pass to return on Saturday).
Please book for all adults, students, preschoolers, and infants.
2. Accommodation
If you would like to camp or stay in a dorm with us then please book tickets for each adult, student, and preschooler. 
If you will be staying in one of the Kryal Castle hotel style rooms then please book directly with Kryal Castle.
If you will be staying at another location then you can arrange this yourself.
3. Catering
If you will be staying at Kryal Castle and you would like catering then please book for each adult, student, and preschooler. If your child eats a full-sized meal then you will need to book adult/student catering for them. If your child eats a half-sized meal then you can book preschooler catering. You do not need to book catering for infants if they will not be eating a meal.
4. Optional Evening Activities
If you would like to join us for the medieval dance and/or theatre performance then please book tickets for each adult, student, and preschooler. You will need to book these tickets before the 7th of February. Extra tickets will not be available after this date or whilst we are at camp.
It is likely that we will have more than the maximum numbers for these activities so we will be doing them over two or three nights to make sure everyone gets to enjoy the experience.
5. Volunteer
Click on this link and add a representative from your family to help out with a role.
Contact Details:
Belinda Cowie
inspiration4education@gmail.com
This event is currently closed and no contact details are available