Film Mother Fish - 30 Years of JRS
Film Mother Fish - 30 Years of JRS
Commemorating 30 Years of Jesuit Refugee Service
What: Mother Fish, a film by Khoa Do (former refugee and 2005 Young Australian of the Year). Khoa Do will be present to introduce the film.
When: Friday, 6th August 2010
Time: 7pm
Where: The Chauvel Cinema, Paddington Town Hall, Corner Oxford St and Oatley Rd, Paddington
Tickets: $15, concession $10
Book: online at http://www.trybooking.com/GJU or call (02) 9356 3888
For information: 9356 3888 or jrsreception@jrs.org.au
In 1980, two teenage sisters take an unforgettable journey on a small fishing boat as they flee Vietnam. Traveling with their uncle and a young fisherman, the four are forced to overcome tremendous challenges as they do everything they can to reach land. From award-winning director Khoa Do comes a deeply moving story of humour, pathos and hope. Performed in English, MOTHER FISH stars an exciting new cast from Australia's Vietnamese refugee community and will be unlike anything you have ever seen in Australian film before.
SYNOPSIS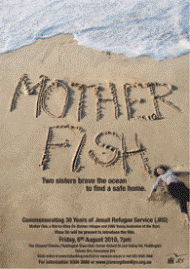 Kim works in a sewing factory making garments. This silent world is where she has been trapped for the past 25 years, ever since first arriving in Australia. One day, another worker brings a toy monkey into the factory. The monkey's appearance thrusts Kim back into her past as she re-lives the extraordinary plight by boat that lead to her arrival in Australia. Along with her younger sister, an uncle and a fisherman, Kim flees her homeland by rickety fishing boat. Around her, the sewing machine tables, racks of fabric and spindles of cotton transform to become their boat of escape. As the boat leaves the ocean, the refugees struggle to face the realisation that they will never see their homeland again. On the second day, a large oil freighter passes by but fails to stop. They are each trying to grapple with life out on the open seas when tragedy strikes. Pirates board the boat, smash their engine and attack both the men and Kim. In despair, Hanh does all she can to help her sister through the most terrifying ordeal of her life. In the following days, food and water slowly runs out. Their arrival in Thailand is short-lived, and the four are force to face the reality that not all of them will make it through this journey. MOTHER FISH is based on the real-life stories of the 1.5 million refugees who fled Vietnam after the end of the war
This event is currently closed and no contact details are available