HI-VIS PRACTICE EXCHANGE
A new Chamber Made initiative for women working across performance, sound and music.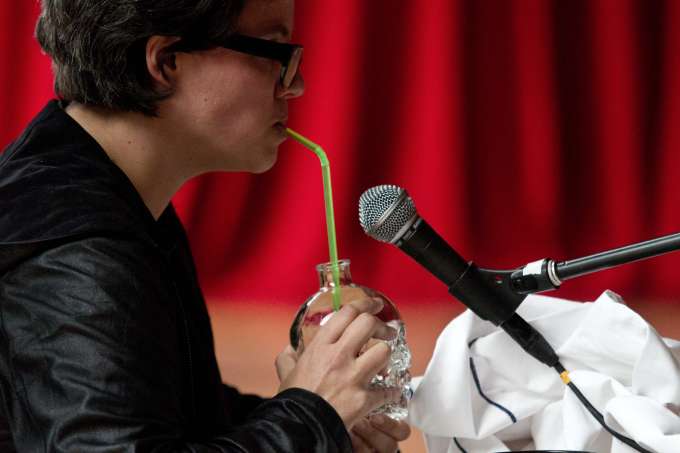 Image from Chamber Made Little Operations with THE RABBLE (2014) Photo credit: Daisy Noyes
WHAT
Hi-Viz is a day of discussions, exchanges, and interactions aimed at deepening dialogue around cross-artform practice, placing a particular emphasis on work residing at the intersection of performance, sound, and music. The practice exchange is intended to deepen dialogue, build networks, and nurture new understandings between women performance makers, theatre directors, composers, and sound artists. Chamber Made hopes to continue and expand Hi-Viz as an annual event.
WHO
Hi-Viz is for women working across performance, sound and music. It is for everyone in this space, from emerging to established artists. Hi-Viz is designed to bring women performance-makers, directors, composers, and sound artists into conversation with one another. Speakers and panellists include:
Gail Priest (keynote presentation)
Genevieve Lacey
Kate Sulan
... and more! Further names and full program details will be added as they are confirmed so keep checking in.
WHY
There are many artists working in these crossover spaces, but few opportunities outside of the framework of producing work, to gather and interrogate this area of practice. Each artform discipline brings with it quite distinct languages, skills, processes, conventions and expectations.
Hi-Viz Practice Exchange aims to begin conversations to unpack these differences in the hope of developing a richer understanding of the possibilities of cross-artform practice. Importantly, it is also a day for practitioners from the often quite discrete scenes of contemporary performance/theatre, sound art, and new/art music to meet one another.
WHERE
This inaugural Hi-Viz event will be hosted by
The SUBSTATION
1 Market Street, Newport VIC
(03) 9391 1110
Map
WHEN
Tuesday 4 December
10am – 5pm
Attendance at Hi-Viz is by registration.
There is a small fee attached to cover costs for the event.
The day includes morning and afternoon tea and lunch.
Registrations will close on Friday 30 November 11.59pm AEST.
*NOTE: This project is a 'Special Measure' under Section 12 of the Equal Opportunity Act 2010 – meaning it can direct its focus towards women only. It is also open to artists who identify as non-binary in their gender identification.
This event is currently closed and no contact details are available