ReConnect to Self (workshop series), Melbourne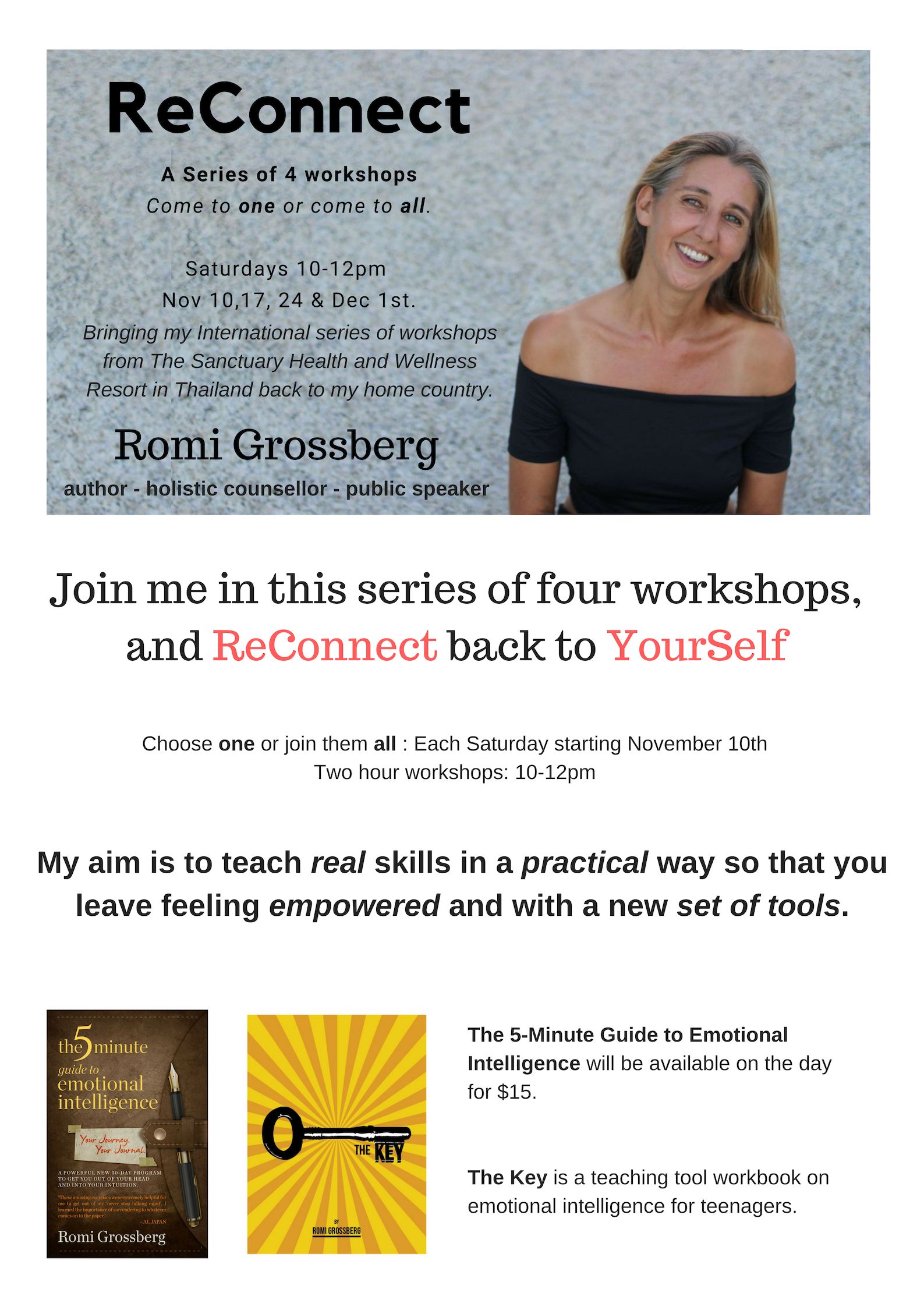 ReConnect back to YourSelf through a series of four workshops Sat morning's Nov 10th - Dec 1st. 10-12pm.
Learn real skills, tools and techniques to keep for life.
Book one or multiple. It's up to you.
Bookings close 1pm the day before each workshop
1. Communication in Relationships: Sat 10th Nov
Understand the basic psychology and physiology behind arguments and what leads us to them.
Learn effective communication skills to listen and be heard in the way you want to with partners, kids, siblings and friends.
Bring self awareness to the different behavioural responses we have so we can improve our effectiveness in communication.
Good communication skills are a fundamental part of life and healthy relationships. This workshop is for everyone.
Full price $65, Concession $55.
TICKET SALES CLOSE FRI 9th @1PM for this workshop.
2. Letting Go: Sat 17th Nov
Gain skills in letting go of old stories that you no longer choose to carry. Whether you call it baggage, stories we tell ourselves or just niggling annoyances that seem to follow us and dictate our behavioural responses or fears - I call it 'what's in your truck?' Sometimes we think we have dealt with them - divorces, bereavements, loss of jobs, broken hearts, dysfunctional upbringings - old traumas that we wouldn't dare call traumas ... and then they pop back up. If you are ready (or at least curious) then let's do this. Let's learn to let them go.
Gain the confidence to cut that rope that drags our truck along with us through life and step forward freely.
This is a liberating workshop to empower you whilst giving you lots of new take home tools and techniques.
Full price $65, Concession $55.
3. The Art of Gutism: Sat 24th Nov 
Trust your gut. Trust Yourself.
We have all experienced that all too familiar argument between the head and the heart, the argument between what we want and what society, family or friends think is right for us.
Learn how to listen to your true self through a simple technique in making decisions that are right for You. Whether you are deciding where to go for dinner or whether to quit your job and go in a new direction, this is a great skill for life.
Full price $65, Concession $55.
4. Make Your Dreams a Reality: Sat 1st Dec
Career/Personal - How to bring your dreams in to your actual life.
Do you remember what you dreamt of doing? or being? before life got busy and ran away. Come back to those precious dreams or make some new ones through a guided visualisation technique to rediscover what makes you happy and feel good.
Full price $65, Concession $55.
This set of four workshops are purposely designed in this order to give you a full experience in communicating, letting go, trusting yourself and coming 'home'. They are all stand alone workshops also that I have been teaching at The Sanctuary Health and Wellness Resort in Thailand for the past six years.
Purchasing Tickets: Click on 'buy more tickets' at check out to add more workshops.
Romi Grossberg is bringing ReConnect; her highly successful series of workshops from her home at The Sanctuary Thailand to Melbourne this year and invites you to join her to ReConnect back to YourSelf. Romi is an author, holistic counsellor, writing therapist and public speaker.
Australian-born, Romi has been living in Asia on and off since 2006 working at the frontier of using creative arts and art therapy in challenging communities. Through managing a hip hop centre in Cambodia for street kids, Romi has presented in numerous forums about alternative approaches to mental, emotional and physical health, most notably at Tedx Phnom Penh in a talk titled: 'Dance Your Life Around'. From over a decade of professional counselling, Romi's unique set of skills in writing therapy and counselling, International public speaking and professional writing, inspired her to share her wisdom worldwide through her book The 5-Minute Guide to Emotional Intelligence. Her latest book The Key teaching emotional intelligence to teenagers has been designed in to a curriculum and is being taught in Melbourne schools and as bespoke courses in Uganda. Since 2013 Romi has based herself in Thailand to write and teach. Huffington Post contributor, Romi has been published in Australia, Hong Kong and India. She currently lives in Thailand facilitating workshops and courses at the renowned health and wellness resort The Sanctuary on Koh Phangan and is simultaneously finishing her memoir Hip Hop & Hope, from the slums of Phnom Penh based on her work in the slums of Cambodia.
Check out my About Me page on my website for more.
BYRON BAY date is Dec 12th, 6-10pm at Byron Community Centre.
Location
Private
St Kilda East, VIC 3183
This event is currently closed and no contact details are available