6-WEEK WELL-BEING CHALLENGE FOR BUSY WOMEN - JANUARY 2019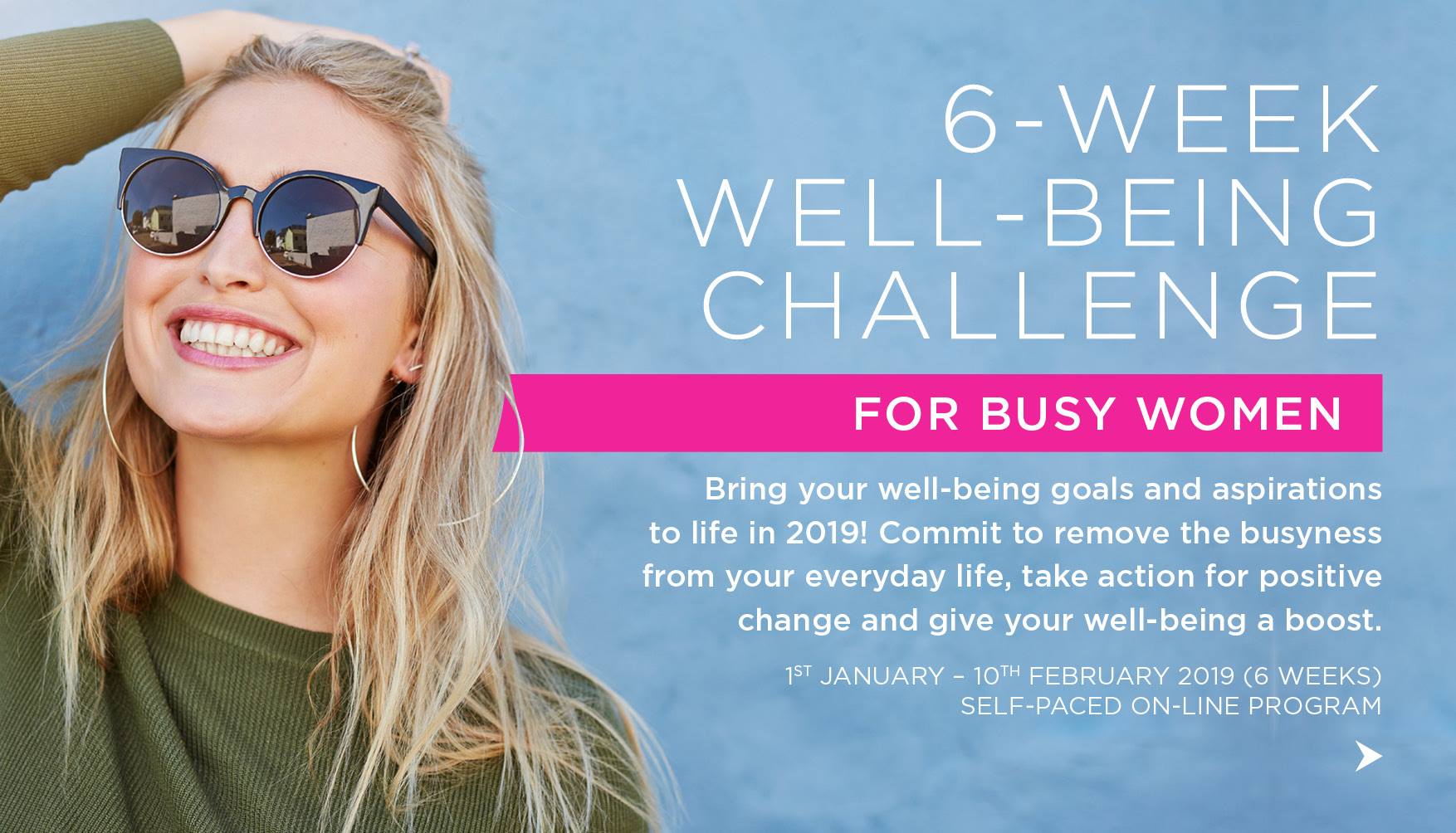 Bring your well-being goals and aspirations to life in 2019! Commit to removing the busyness from everyday life, take action for positive change and give your well-being a boost. Our 6-Week Challenge will help you focus on what's really important so that you can spend more time doing the things you love and drop off the things that don't don't contribute to your well-being.
 
Being involved in our on-line, Well-being Challenge for Busy Women will enable you to join others to be guided, coached and mentored to keep focused on what's important in your life. 
Receive course materials, reminders, readings, helpful tips and topics, check in at our 'half way there' webinar, respond to daily questions to keep you on track to achieve your courageous well-being plan and connect with other women via our private Facebook group. 
Each week there will be one aspect of well-being for you to focus on and you will identify one thing you want to practice for that week to positively impact on your well-being. You'll just need a journal and be willing to have a go and experiment and reflect on what you notice in yourself as you go through the challenge. Its self-paced so you can fit it in around your lifestyle.
It's the perfect gift for yourself or someone you love.
Activities:
Daily Reflection Questions – a simple question to explore throughout your day
Weekly Well-being Themed exercises – explore what is important to your well-being in a range of areas such as mindfulness, nutrition, sleep, exercise, relationships, work, learning
Weekly Well-being Readings to inform you and provide alternate approaches to achieving your goals
Weekend Women's Wisdom – some special guest presenters providing their take on well-being and sharing their tips, challenges, success strategies and encouragement
Half-Way There Well-being Webinar – check in, share your progress and seek support
Well-being Private Facebook Group to share your experiences and learn from others 
One-on-one Coaching Session post-program to reflect on your experiences, consolidate your learnings and keep your momentum going! (Gold Pass only)
Our Weekly Themes are:
Week 1: Sleep
Week 2: Movement/fitness
Week 3: Connection/relationships
Week 4: Work/roles
Week 5: Creativity/learning
Week 6: Nutrition
We've identified these themes from the research we've been doing when working with women at our Well-being workshops for Busy Women - these seemed to be the most common areas women want to address with improving their well-being. However, if you look a the list and think, "I've already got Movement/fitness sorted" then we'd invite you to identify another aspect of well-being not on the list to explore and you can substitute the questions we provide to explore your own theme. It might be spirituality or finances etc. The reason for having a weekly theme is so that we can all support each other in the facebook group as we go through the challenge. If you think you've got some great strategies for any of the themes, we'd love you to play the role of mentor or adviser to other women in the group.
You have access to all our awesome course materials, including readings, videos and reflection questions, delivered daily to your in-box. PLUS unlimited access to our fabulous Facebook group where you'll be able to connect with your course coaches Cynthia and Louise, and become part of a community of like-minded women where you'll be able to exchange ideas, challenges, wins and encourage and motivate each other - we've found women love helping other women so this is a powerful resource for you. We also share additional bonus materials like videos and readings via the Facebook group. All you'll need is a journal.
We're offering all this for just $149 per person (+ booking fee). That's less than a coffee a day and much better for your health and well-being! 
Are you in?
Refund Policy: We do not provide refunds however you are able to exchange your registration with another person.
Disclaimer: We recommend that you seek professional help if your involvement in our program creates any anxiety or concern.
What women in our previous programs said about the Challenge:
"I signed up for the Well-being Challenge because I was feeling scattered and needing direction. I felt like I was lurching from one task to the next and just couldn't seem to find any time or headspace for myself. Five weeks in and I'm regularly writing in my journal, exercising and generally feeling very hopeful about the year ahead. I will be so sorry to finish! It's not just the knowledgeable and compassionate guidance from facilitators Cynthia and Louise, but also the support from the Facebook group, which makes you feel like you're part of a team. 'Chatting' to the other participants about our wins and challenges has helped to keep me motivated and on track. And it's just nice knowing that you're all in it together. I nearly didn't sign up for the Challenge because of all of the usual excuses – I don't have time, I can't afford/justify it, I'll sort things out myself etc etc – but I'm so glad I did and am already looking forward to a refresher later in the year." Jane Reeves
"I have loved the focus and clarity of the 6-week Challenge which has helped me to pay much-needed attention to my own well-being. The way that the program has been structured to work on multiple levels and the flexibility this provides for participation on a needs basis has kept me interested/motivated and the weekly themes which graduate from the physical to the more abstract provide a great framework to build on throughout the Challenge. And the wonderfully researched background readings to introduce each theme provide a grounded introduction which the daily emails confirm through their further insights and discussion, guest appearances and general motivation. The weekly summaries are also a great resource for further reflection. The Facebook page has been a source of insight and motivation - a source of connection with others whose lives are very different from mine through sharing a focus. So thank you for this cleverly crafted initiative and for the care." Virginia Brook
"At the start of the challenge I would have rated my well being at about 7. Now I think it is about an 8. But I think the 8 is so much more accurate than the 7 would have been. By this I mean that I now have a much better understanding of my well-being, than before I started the challenge.The big change for me is the 'little change' I committed to as a part of movement week. I've been to pilates every week except one since movement week, and my back has not felt this good in years. I'm sure this contributed to doing a 24km bushwalk on the weekend with no negative effects other than a happy, healthy, tiredness (yes, I am bragging)!" Participant
Your Well-Being Coaches:
Louise Thomson and Cynthia Mahoney are experienced leadership development facilitators and coaches. They co-founded the Driving Your Life Program almost five years ago after listening to the repetitive concerns of people, irrespective of their occupation, age or gender, who wanted to set aside time to reflect, dream, create and take action to make the positive change in their lives.
Louise operates her leadership development practice from her golf club estate home where you'll find her working with people to be more effective at influencing others, mentoring senior managers and CEOs to be more inspiring in their communication and she leaves behind  frameworks, tools & techniques which help leaders make a more positive impact in their workplace and communities.
Cynthia is passionate about working with women to embrace their strengths, develop their life and leadership skills and live courageously. She believes that being our best selves and living purposefully we create a positive ripple effect that benefits our families, workplaces, and communities as well as ourselves.
Driving Your Life Program – It's time to create and realise the life you want!
and finishes on 11th February 2019
Location
You can select where you want your well-being space to be. . You will receive all the information you need, no matter where you are located.

This event is currently closed and no contact details are available