Amma Satsang Perth
Br Shraddhamrita arrives in Perth on Amma's request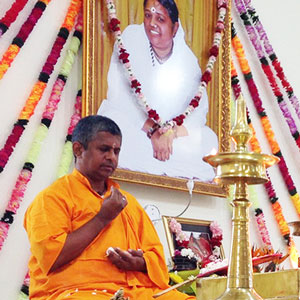 We are delighted to confirm that Amma has asked one of her senior disciples, Brahmachari Shraddhamrita Chaitanya to tour Australia during October through to December 2018.
Join us for an afternoon of meditation, the sharing of its benefits through discussion, enjoy some chanting and be nourished by ritual.
Amma Satsang Perth feels honoured to present Brahmacharya Shraddhamrita Caitanya at The Sound Temple in the Perth Hills.
During the afternoon there will be a:
Meditation
Discussion
Questions and Answers
Practice
Shraddhaji will bring the energy and essence of Amma, the Hugging Saint, to us right here in Perth. He directs Amma's IAM (Integrated Amrita Meditation) program and travels out of Amritapuri, Amma's ashram in Kerala (India) on Amma's request to bring the benefits of meditation to people far and wide.
The afternoon will also include:
Bhajans (from Amma's songbooks)
Ritual
A Deep Honouring of Amma
A shared Afternoon Tea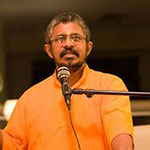 Please bring a small plate of vegetarian finger food to share.
Donations appreciated.
The Sound Temple is located in Sawyers Valley in the Perth Hills on five acres of Jarrah forest; it's a sacred space, cared for by the loving hands of dedicated and inspirational custodians, committed to creating a gathering place for like-minded people to come together. The Sound Temple is a venue of peace, love and connection to spirit and it's an honour to host such international events of this calibre on this land.
Brahmachari Shraddhamrita Chaitanya first met Amma in 1989 and has been living at Amma's ashram in Kerala, India since 1993. He received Brahmacharya initiation (the equivalent of becoming a monk) from Amma in 1997.
He has a bachelor's degree in Electrical and Electronics Engineering and had worked for two years in the software industry before joining Amma's ashram. He has been actively involved in coordinating scientific research and social welfare projects in Amrita University (Amma's University in India).
He has toured Europe conducting satsangs, retreats, meditation sessions and question-answer sessions. He is currently the national coordinator of the IAM Technique meditation groups in India. We Welcome Br Shraddhamrita and Amma Satsang Perth to The Sound Temple.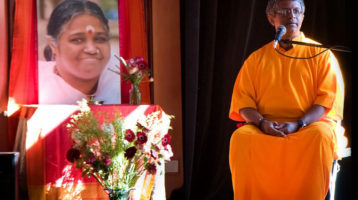 Amma Satsang Perth, blessed by Amma in its creation and connected to the national body ammaaustralia.org.au, is a new second group in this area. If has been offering gatherings since May 2018 and attracts people of all ages, nationalities and religions. May this event be the experience in which Amma reaches you and inspires you to join our monthly meetings.
Venue
The Sound Temple, Sawyers Valley WA
Contribution
Free – Reserve Tickets 
This is a ticketed event, no door sales available.
When
Start: Sunday 2nd December 2:00pm
Finish: 5:00 pm
Included: Endless cups of warming organic teas and coffee
What to Bring: Please bring a small plate of vegetarian food for afternoon tea to share.
Donations at the event for Amma's charities will be welcomed
Contact Details:
Dawn 0474 555 444
The Sound Temple - 100 Marshwood Pl, Sawyers Valley
This event is currently closed and no contact details are available