HALO BALL 2019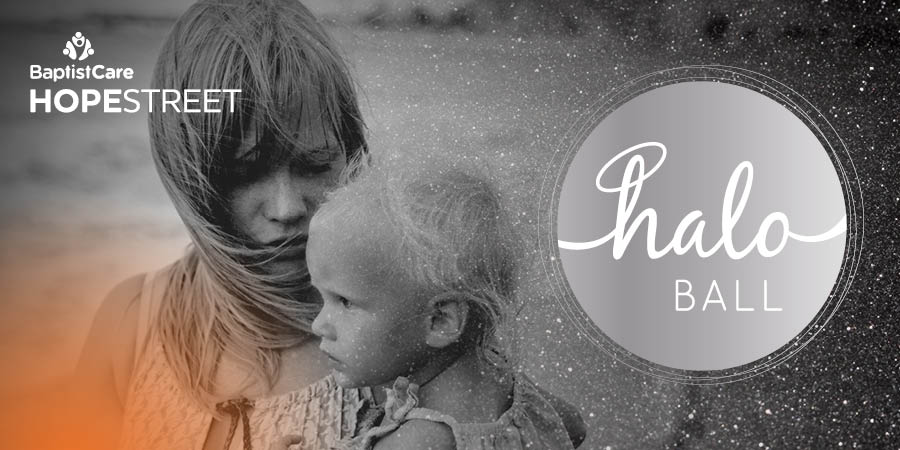 Raising much needed funds to help women and children experiencing domestic and family violence 
FRIDAY 3 MAY 2019
Pre-Dinner Drinks 7pm, Dinner 7.30pm – Midnight 
The Westin Sydney, No. 1 Martin Place, Sydney 
Dress. Lounge Suit
Master of Ceremonies
Sandra Sully
The Halo Ball began in 2016 as BaptistCare's first fundraising event for women and children affected by domestic and family violence.
Through the generosity of our supporters over the past three years we have raised over $300,000. These vital funds have gone directly to our frontline services, providing a mix of emotional and practical assistance including supported accommodation for almost 300 women and their children, group support programs for over 350 women; as well as many hundreds of hours of individual and group counselling for women and children seeking to rebuild their lives. 
Now in its fourth year, we are pleased to announce our 'new look' Halo Ball in support of BaptistCare Hope Street, a trusted place in some of the most vulnerable communities offering hope to people living with disadvantage and distress. This development highlights the important role that BaptistCare Hope Street plays in providing front line support services for families impacted by domestic violence.
With a proven track record in supporting women and children who are fleeing violence, our BaptistCare Hope Street teams are there, working alongside them, offering individual programs to meet their needs. 
With your partnership and support, you can help us to continue the vital services we have been delivering for over 33 years.
Please join us at the Halo Ball 2019. Together we can help break the cycle of abuse and respond to Australia's domestic and family violence crisis. 
For further event & sponsorship details visit haloball.org.au 
If you are unable to attend but wish to support the Halo Ball by making a donation to BaptistCare Hope Street or for any other event queries please contact Melanie Hendra.
Contact Details
Melanie Hendra Ph. 0407 674 445 E. melanie@melaniehendraevents.com
This event is currently closed and no contact details are available