Event Waitlist
Your name has been added to the wait list for this event. The event organiser will contact you through your email address once there are available seats / slots.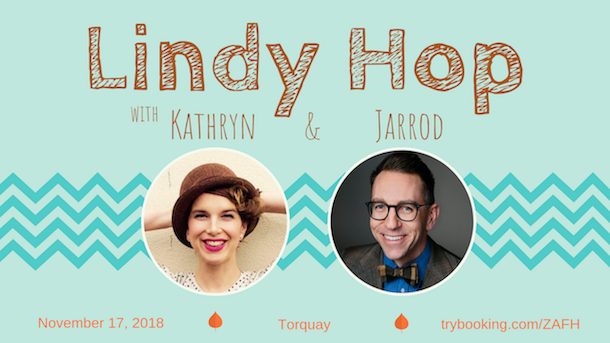 Seaside Swing is pleased to bring you an evening of Lindy Hop with KATHRYN & JARROD, and LIVE MUSIC with Steve Purcell's Pearly Shells! Kathryn and Jarrod are well known and respected in the dance community not only for their skill as dancers but also for their teaching talent and experience. Mark your calendars!


Kathryn Kelly
Kathryn Kelly had always wanted to learn how to Lindy Hop, after seeing a dance-scene in the movie The Mask.  Dream became reality in 2003 when Kathryn started classes in Geelong. She now enjoys teaching, performing, learning, competing and especially social dancing more than ever, both locally and internationally. 
Kathryn is an energetic member of Melbourne's Lindy Hop troupe 'Echoes of Harlem', and has won awards at a number of events including the Australian Swing Dance Championships, Australian Jitterbug Championships and the Melbourne Lindy Battle.
Kathryn finds joy in all styles of this dance that we do, and plans to do it forever and ever.
Jarrod Bates
Jarrod began swing dancing following his humiliation in 2009 at the hands of some hard swinging 60-year-olds on the dance floor at a Melbourne pub.
Since that fateful day, Jarrod has now gone on to place in many Melbourne and interstate competitions. He is also a member and performer with Australia's premier swing dancing troupe Echoes of Harlem and has taught regular beginner, intermediate and advanced classes in Melbourne since 2012. From 2014–2015, Jarrod was also creative director and instructor for Swing Patrol's corporate performance troupe, Harlem Shout.
Rhythm, flow and "groove" to inform the lead and follow are central to Jarrod's teaching, along with what swing dancing is ultimately all about: FUN!
Jarrod has taught workshops both interstate and overseas and is best known for his skills and knowledge in Lindy Hop, Charleston, slow dancing, aerials and Solo Jazz. His greatest inspiration is 'jazz music', and he appreciates and takes inspiration from the expression of that music across any level of swing dancer.
Credits to our friends from 1929 Studios!
Kathryn & Jarrod are preparing an evening of classes for beginners, intermediate and advanced Lindy Hoppers.
The beginner class is suitable for absolute beginners, however, we welcome and encourage the more experienced dancers to attend:
- If you pay for the advanced class, you have access to intermediate and beginner classes. 
- If you pay for the intermediate class, you'll have access to the beginners class as well.
- You are welcome to switch roles on any subsequent classes you are doing.
NO PARTNER REQUIRED!
ALL WELCOME!!! :)

* Please make sure you meet the experience criteria below for the class you are registering for:
Beginner:
"You may be a never-ever-danced-in-your-life type of student -- or maybe you've dabbled in dancing over the years? Either way, this is your first stop to learning swing! You'll learn the basic rhythms of Swing and connection in partner dancing. Dancing socially is where the real fun is, so make sure you give it a go at the practice sessions and parties!"
Intermediate: 
VOCABULARY - TECHNIQUE - IMPROVISATION
"By now you've taken enough Beginner level classes and practiced enough that the basic rhythms of swing are in my muscle memory! When you first transition to Intermediate classes, you may still take Beginner classes for a while, possibly even learning the opposite dance role. You may start understanding deeper level concepts of connection and movement that you previously didn't notice. It's likely you'll stay at the intermediate level for a while as you unpack the layers of learning."
Advanced: 
MUSICALITY - RHYTHMS - QUALITY OF MOVEMENT
"In our advanced class, we hope to provide a challenging learning environment for dancers who have been swing dancing for at least 2 to 3+ years. You should be regularly social dancing, comfortable dancing at a range of tempos (partnered and solo), and have a good understanding of standard Lindy Hop, Charleston and Solo Jazz vernacular. Most importantly, please ask the teachers if you are unsure whether this level is appropriate for you."
 
Credits to our friends from 1929 Studios!
Schedule
Date: 17th of November
Class 1 - 6:00 to 7:00 pm - Advanced Lindy Hop (registration includes intermediate and beginner classes)
Class 2 - 7:00 to 8:00 pm - Intermediate Lindy Hop (registration includes beginner class)
Class 3 - 8:00 to 9:00 pm - Beginner Lindy Hop 
Social dancing - 9:00 to 11:30 pm - LIVE MUSIC with STEVE PURCELL'S PEARLY SHELLS, dance performances, and DJs! 
Social dance is FREE if you attended any classes during the day. Otherwise, $15 at the door (cash only).
Location
TIA Hall
12 Price Street, Torquay 3228
FOLLOW SEASIDE SWING ON FACEBOOK (CLICK HERE)
This event is currently closed and no contact details are available