Dermoneuromodulation with Diane Jacobs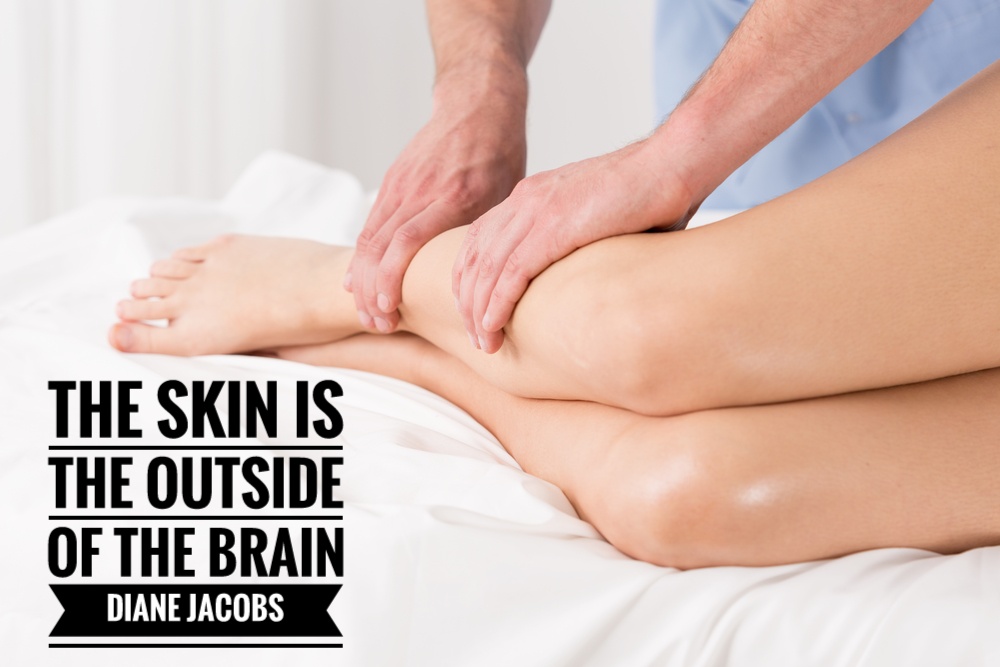 Diane Jacobs is a physiotherapist with over 40 years of clinical experience.

She was exposed to the slow, gentle and indirect style of manual therapy she uses by an osteopathic physician early in her career.

After seeing David Butler of the NOI Group present in the early 1990's, Diane started researching the nervous system. With a particular focus on the sensory cutaneous nerves, she started piecing together an evidence based framework for manual therapy, that would later become 'DNM'.
What is DermoNeuroModulating?
DermoNeuroModulating, or -tion, is a structured, interactive approach to manual therapy.
It was developed by Canadian physiotherapist Diane Jacobs. It draws on studies of embryology, pain and neuroscience. DermoNeuroModulation (DNM) is not a technique, but a clinical reasoning framework.
It considers the nervous system of the patient from skin cell to sense of self. Techniques are slow, light, kind, intelligent, responsive and effective.
DNM involves positioning patients in a way that affects deeper nerve trunks (shortening and widening their container) .
From this position, a skin stretch direct towards cutaneous fields of nerves is applied. This action draws neural structures further through its container, improving neurodynamics.
All of this is delivered within a well constructed clinical context, which includes pain education and individualised movement.
COURSE OUTLINE
◼️ Introduction to the Neuromatrix model of pain, pain as biopsychosocial phenomenon
◼️ Overview of CNS and PNS processing (relevant to any kind of manual therapy) from a sensory processing perspective ◼️ Neuroanatomy and neurophysiology of the peripheral nerve
◼️ Overview of the cutaneous system
◼️ Examination of "tunnel syndrome"
Lab: strategic positions of comfort and skin stretch that have clinically been found to help a prepared nervous system to reduce pain output
KEY LEARNING OBJECTIVES
Participants will come away with:
◼️ Increased awareness of the role the nervous system plays in pain production, and in response to manual therapy
◼️ Better ways of accessing and communicating with the nervous system on every level
◼️ Appreciation for the cutaneous nervous system
◼️ A science-based method of manual therapy handling that takes into account what has been learned in neuroscience and pain science over the last couple decades
◼️ Better palpation skill, and motivation to have manual therapy hands that are warm, slow, light, kind, effective, responsive and intelligent.
COURSE SCHEDULE
THU 7-10 PM: THEORY PRESENTATION
◼️ Introduction, brief history of pain science
◼️ Pain and nociception, the difference
◼️ The predictive brain, how manual therapy may tie in
◼️ Overview, evolution and embryology of the nervous system, how it began as a sensing system
◼️ Psychosocial factors, non-specific effects, descending modulation, distinction between what the spinal cord (oldest part of CNS) does, and what brain (more recently evolved) does
◼️ Peripheral mechanisms, PNS, skin, what it is and does
◼️ Nerves, neurons, neurodynamics, physiology of nerves, tunnel syndromes
◼️ Treatment goals and concepts
FRIDAY - DAY 1 OVERVIEW:
Cervical plexus, spinal nerves of upper body Assessment and suggested treatment for spinal nerves of head, neck, upper trunk (back, sides, front)
SATURDAY - DAY 2 OVERVIEW:
Nerves of brachial plexus Assessment and suggested treatment for spinal nerves, motor and cutaneous, of shoulder girdle, shoulder, elbow, forearm and hand. Also for dorsal rami of low back and posterior pelvis.
SUNDAY - DAY 3 OVERVIEW: Nerves of the lumbosacral plexus Assessment and suggested treatment for nerves, motor and cutaneous, of the lumbosacral plexus to low back and posterior pelvis, hip, pelvic floor, knee, lower leg, foot.
Location
The Larwill Studio
48 Flemington Rd, Parkville, VIC 3052
Contact Details
This event is currently closed and no contact details are available