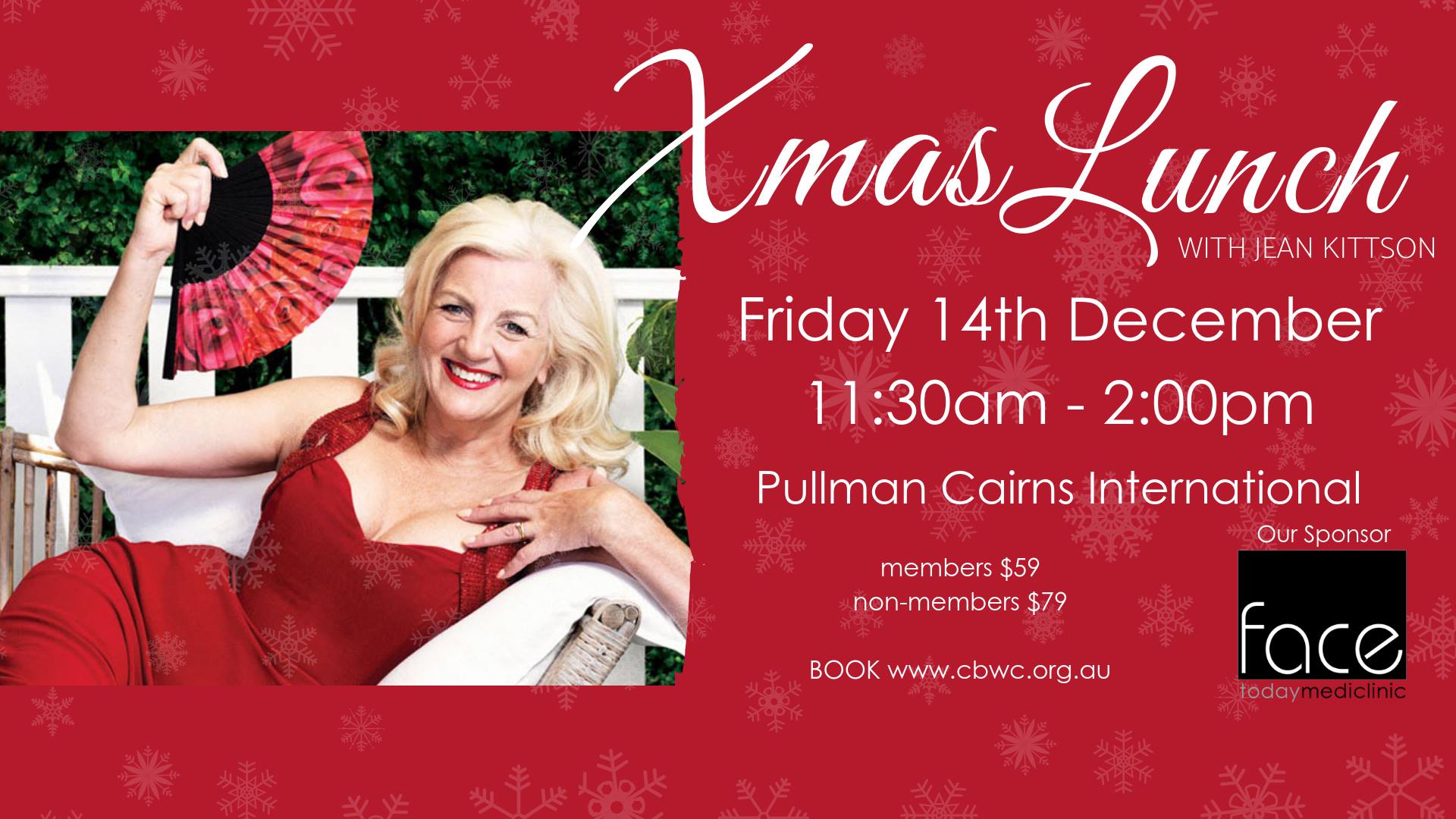 LET'S KICK OUR HEELS UP THIS CHRISTMAS!
What a way to end the year! We are so excited to have the talented Jean Kittson as our guest speaker for our Christmas Lunch.

As a performer and scriptwriter for stage, television, radio, magazines and newspapers, Jean Kittson came to national attention on 'The Big Gig', followed by Let the Blood Run Free, Kittson Fahey, Good News Week, the Glasshouse, Flat Chat, The Einstein Factor, Media Dimensions and Strictly Speaking. 
Well known for her comedy debates for the ABC, Channel 9 and Channel ten, she has been a regular columnist with New Weekly, Sunday Telegraph, the Sydney Morning Herald - Sydney Magazine, Inspire Magazine, the Readers Digest Health Smart magazine and The Hoopla. 
She is the author of 'Tongue Lashing', published by Penguin, as well as her latest book 'You're still hot to me', published by Pan Macmillan.
Jean's film credits include 'Hating Alison Ashley' and 'The Nugget', and she is a regular guest on ABC 702 radio drive programme, 'Thank God It's Friday'.
Members $59    I   Non-members $79  
Venue
Pullman Cairns International from 11:30am 
Contact Details:
Jules Steer - President
president@cbwc.org.au
By continuing this booking, you agree and consent to, for yourself and any person you book on behalf of, to the use of :
• Personal photos or video footage for use in all forms of media and publications as well as 
distribution to members of the Cairns Business Women's Club.
• Personal photographs or video footage being used to promote future events by the Cairns 
Business Women's Club and other media.
If you do not wish to agree to these terms, please contact the President of the Cairns Business Women's Club on president@cbwc.org.au at least 48 hours prior to the event.
This event is currently closed and no contact details are available