The 2019 Boite Singers' Festival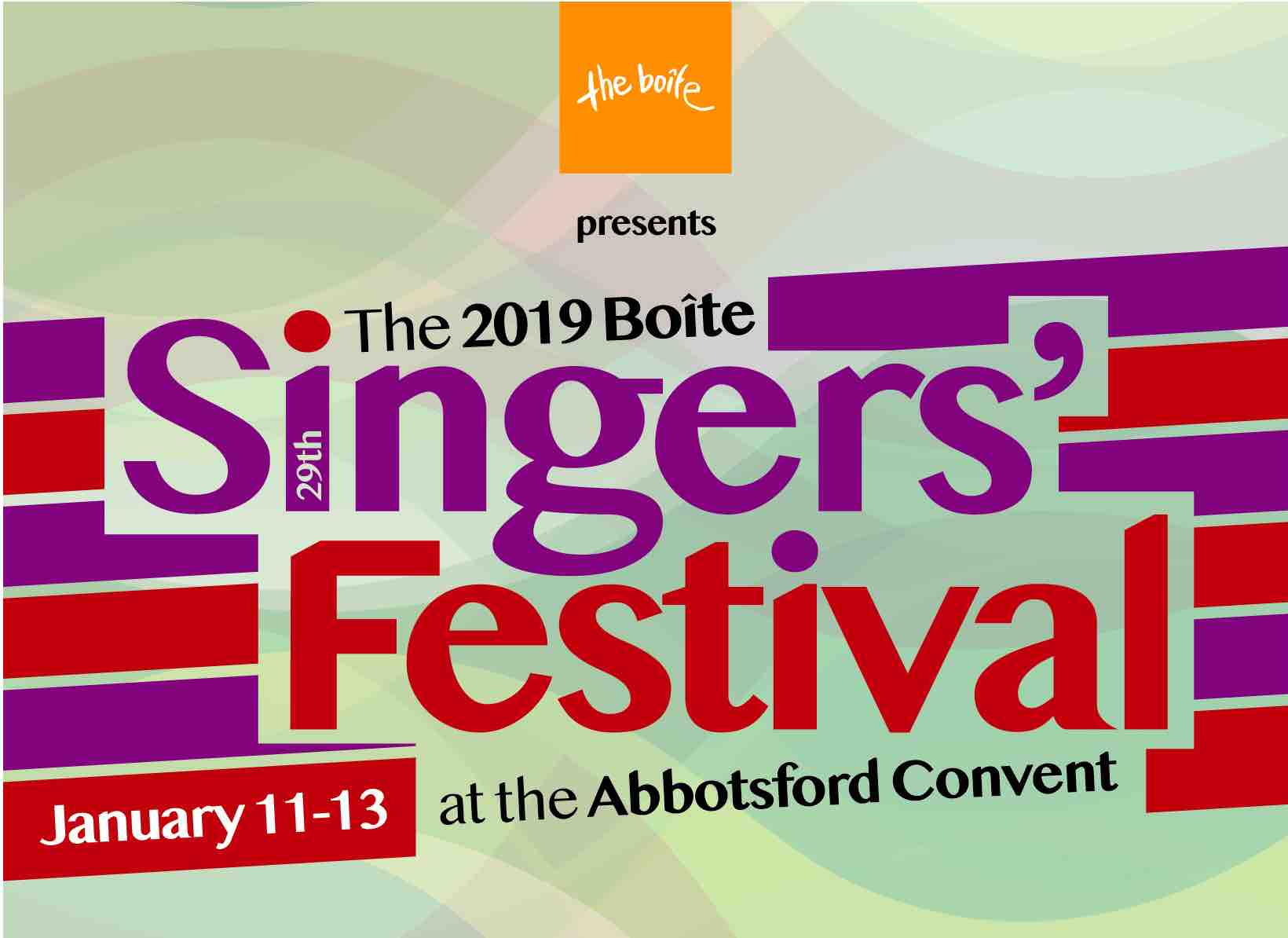 2019, The Boite's 40th Anniversary year, kicks off with the 29th edition of the Boite Singers' Festival, a 3-day festival of song with over 20 workshops catering for singers of all skills, held on the second weekend of January at the Abbotsford Convent.
The festival runs over 3 days with day-long workshops on Friday January 11, short workshops on Saturday 12 and Sunday 13, and concerts at the end of each day.
Entry to each day's concert is included with the respective day pass. 
Otherwise, tickets for the festival's concerts are sold separately. Follow the links below for tickets.
FESTIVAL INFORMATION
A day with...
Friday January 11th - 11:00am to 5:00pm

Friday Night Concert
Friday January 11th - 7:00pm to 9:00pm
Tickets: www.trybooking.com/ZXVR
Saturday Workshops
Saturday January 12th - 8:00am to 5:30pm
Saturday Night Concert
Saturday January 12th - 7:00pm to 9:00pm
Tickets: www.trybooking.com/ZYBL
Sunday Workshops
Sunday January 13th - 8:00am to 4:00pm
Festival Finale Concert
Sunday January 13th - 5:00pm to 6:00pm
Tickets: www.trybooking.com/ZYBQ
PRICING
EARLY BIRD AVAILABLE UNTIL DEC. 1
3-Day Festival Pass
Includes entry to 1 day-long workshop, 9x90-min workshops of your choice and all festival concerts.
Full $265, Concession $220, Under 25s $180
2-Day Weekend Pass
Includes entry to 9x90-min workshops of your choice and Saturday Night and Festival Finale concerts.
Full $200, Concession $165, Under 25s $135
A day with... Friday Day-Long Workshop
Entry to a day-long workshop (Friday) of your choice and the Friday night concert.
Full $75, Concession $65, Under 25s $55
Saturday Day-Pass
Entry to 5 workshops of your choice and the Saturday night concert.
Full $120, Concession $100, Under 25s $85
Sunday Day-Pass
Entry to 4 workshops of your choice and the Festival Finale concert.
Full $90, Concession $75, Under 25s $60
Single Workshop Pass
Single workshop passes will only be available at the door
Full $35, Concession $25, Under 25s $20
Location
Abbotsford Convent
1 St Heliers St. Abbotsford
Contact Details
This event is currently closed and no contact details are available