Crunch Time by Counterpilot & Metro Arts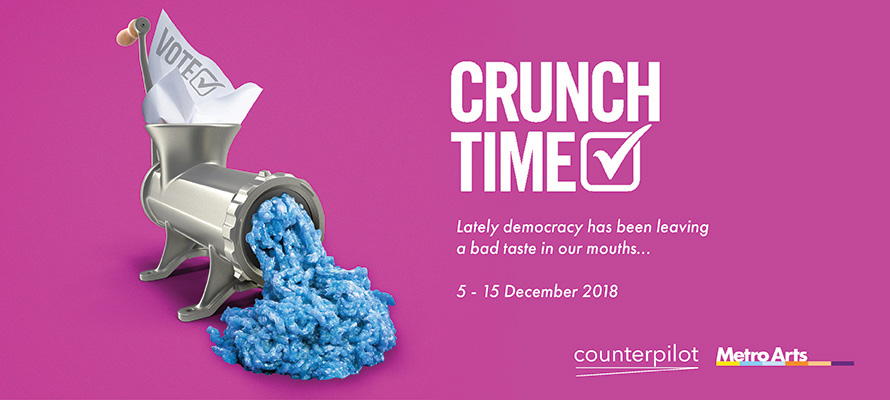 Lately democracy has been leaving a bad taste in our mouths.
Crunch Time is a dinner party…..of sorts. Seated around a projector-mapped dining table, participant diners use interactive tools to vote for every ingredient used in an elaborate five-course meal. Viewed via live-feed video from a nearby kitchen, a guest chef prepares real food in response to demand.
But we're not using master chefs here – instead, each performance will nominate individuals from public positions of leadership. Politicians, Artistic Directors and CEOs will take their turn to cook up requests from the dining room with dangerously unpredictable results.
Maple syrup in the pasta? Chocolate on the bacon? The popular vote can be hard to swallow, but at the end of the day - we've all got to eat…
TICKETING
There are three ticket prices for you to choose from; Preview $35 (available for preview performance only), Standard $55 and Patron $90. 
What is a Patron Ticket? If all tickets were priced to reflect the true costs of mounting this production, they would cost over $100 each. To ensure affordability of the experience, tickets are subsidised by the artists and project partners. Purchasing a patron ticket is a way of supporting these efforts, contributing more resources to the production so that it can be made accessible to a broader community. Patron tickets are available for guests who may have the means to offer this additional support. Your experience during the performance will not be different to guests attending on a regular ticket but we might love you just a little bit more.
For more information about the work or FAQ's please visit Metro Art's website HERE. 
Crunch Time runs for approx. 2.5 hours, including 5 courses. Due to the interactive nature of this performance, a strict lockout period applies.
This project was co-commissioned by Next Wave and Metro Arts. This project has been assisted by the Australian Government through the Australia Council, its arts funding and advisory body. The Creative Sparks Fund is a partnership between the Queensland Government and Brisbane City Council to support local arts and culture in Brisbane. Metro Arts' Work-In-Residence Program is made possible by the support of Lynn Rainbow-Reid AM and John B. Reid AO. 
Location
Norman Price Theatre
TAFE Queensland South Bank, C Block, 66 Ernest Street, South Brisbane, QLD 4101
Contact Details
This event is currently closed and no contact details are available