GUITAR CLINIC w/ THE FRET DRIFTERS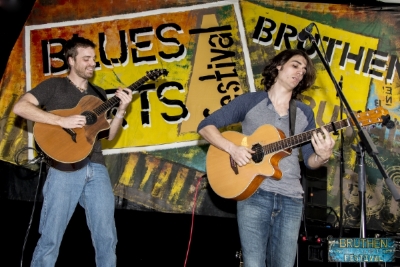 Guitar Clinic Workshop is part of the 2019 Bruthen Blues & Arts Festival, 15th, 16th, 17th February.  This ticket is for the workshop only and no other ticketed event of the festival.  If you hold a WEEKEND PASS [click here to purchase], the workshop is $10 and you can pay at the workshop door, no registration required.
This workshop is based on "exotic" acoustic guitar techniques which The Fret Drifters, Nick Garrett-Powell and Andy Casad, do so well.   
They will cover topics like how to play with only your left hand so you can drum with your right hand on the guitar body, how to use electric guitar pedals, tapping scales and chords like a piano and modifying the guitar with gadgetry. 
This workshop is a must for any one that loves guitar and is seeking a deeper challenge for what this classic instrument can do.  When The Fret Drifters were here in 2014, the crowd at Bruthen Inn Hotel were amazed at the skill and fluidity at which they played.  Those lucky enough to have done their workshop came away feeling empowered with new techniques and varied sounds; contributing to songwriting and broader confidence with the guitar.
Andy Casad is a celebrated finger-style guitarist. He has won the Rogue Valley's STAR OF STARS in 2008 and THE BREEDLOVE GUITAR competition in 2009 (both U.S.A).  Nick Garrett-Powell studied classical guitar and piano.  The Fret Drifters were voted "Most Innovative Band" in 2011 from Radio Station 96.9 The Rogue (U.S.A)
This workshop is conducted as part of the BRUTHEN BLUES AND ARTS FESTIVAL, 15th, 16th, 17th of February 2019
Saturday 16th February, 2019  |  4pm till 5pm
Location
Bruthen Mechanics Hall, Supper Room
Main Street, Bruthen, Vic  3885
This event is currently closed and no contact details are available