Bear Essentials 23 - Bear Pit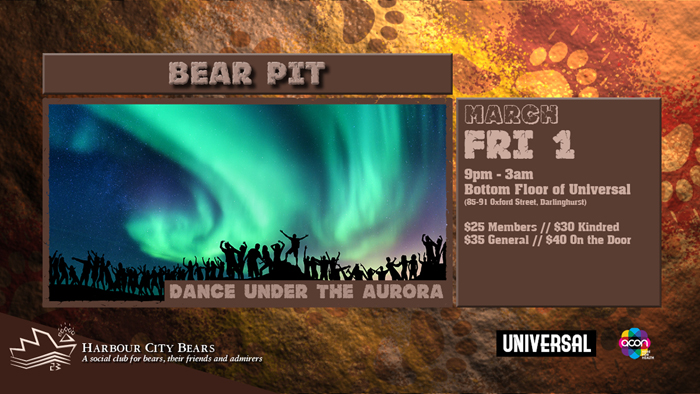 Good lord what is happening in there?
Aurora Borealis.
Aurora Borealis? At this time of year, at this time of day, in this part of the country localized entirely within Universal?
Yes.
May I see it?
YES, YOU MAY!
We have a huge night planned for you! The day before the parade, what better way to spend the night than to party on!
At the bottom level of Universal, we will be throwing our pre mardi gras party.
With DJ's Man Lie and Matt Effect, the music is sure to be sweet, and will get you ready to party the night away in style.
Cloaking will be available for you to stash any of your belongings from the pool party before, so come on up and enjoy the ride, the Aurora only comes out rarely, so make the most of it!
Location
Universal
85-91 Oxford St, Bottom Level, Darlinghurst, NSW 2010
Contact Details
This event is currently closed and no contact details are available