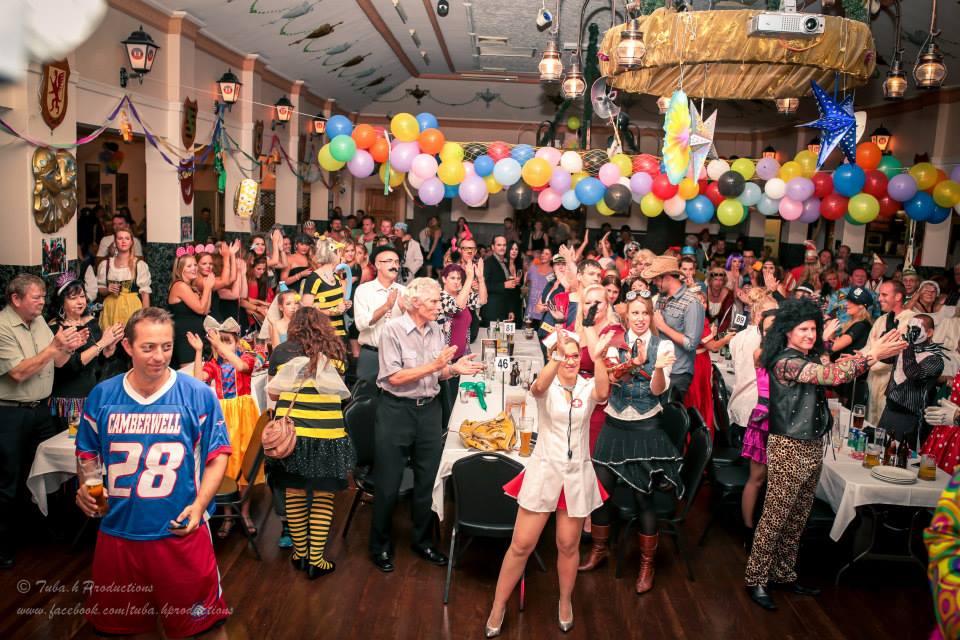 As at 22 Feb 12noon the hall is FULLY BOOKED! Bring some notes to get your ticket at the door but you may have to sit outside the hall depending on potential no-shows...
Only a small number of seats are left as at 21 Feb 12noon. Get into your fanciest dress and join us for a crazy night of dancing, fantastic performances and delicious German food and beers!
Woah - 100 tickets sold in the week!!! (9 Jan 12 noon)

Details

 
23 Feb 2019  - 6:11 pm to 11:59 pm
Fancy Dress Party at the Brisbane German Club
Brisbane German Club
416 Vulture Street
East Brisbane Qld 4169
Parking at surrounding streets.
Woolloongabba bus station is 500m away.

SIGN IN DETAILS

Brisbane German Club Members (Club Rules apply) show your membership card as you enter or if you are with a member they can sign you in.

If you are a member at a reciprocal Club you can sign in as a reciprocal member using those membership details.

If you're a visitor and reside outside a 15km radius you can sign in as a Visitor.

If you're a visitor living within a radius of 15km without any membership cards, you can sign up on the day and become a social member for $5.

TICKETING

Tickets are $5 and can be booked up until and including 23 Feb (unless sold out prior). Mobile redemption is accepted. Seating allocation closes 22 Feb 4pm, you may have to stand up or wait for a seat if ticket purchased after that time. We suggest multiple tickets are purchased at one time to ensure that seating will be in the one group. Sorry, single tickets added to an existing booking cannot be guaranteed seating in the group.


While all effort is made for special seating we can't guarantee to meet all needs. Tables may be split and may contain more than one group of reservation per table to ensure that all can be accommodated.

ENTERTAINMENT

We are going to treat you with traditional Karneval music (6pm), live entertainment (7pm), live music (8pm), raffle prizes (10pm) and other give aways, best dressed awards (9pm) and the chance to experience mouth-watering German cuisine along delicious Aussie and imported German beverages!
Note, doors open at 6pm, live entertainment program betwen 7-8pm. To register for best dressed categories (male, female, couple/group) meet us in front of the stage by 6:30pm. Sorry no late comers. You must be present to win, good luck!

FOLLOW US

...on FB and Insta for photos, videos, reviews and comments...
@brisbanekarneval  |  #brisbanekarneval 
Don't think - just book! ;o)
 
Wanna share this with your friends? Click below!
This event is currently closed and no contact details are available