Hallowed Ground - Women Doctors in War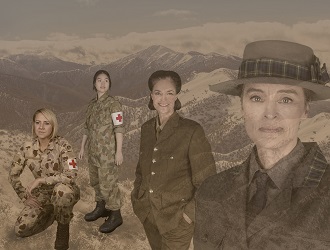 FOUR WOMEN.  MANY STORIES.  A CENTURY OF SERVICE
Set against the vast landscape of world conflict from World War One to contemporary times, four women unite across a century to share their personal stories of active service in the military.
Lilian, a surgeon in her fifties, denied military service in World War one, travels abroad to join The Scottish Women's Hospital, serving in the remote Balkin snowfields.  In World War Two, Mary, a specialist radiologist, she too denied service with the Australian Army, finds herself the only women among 3000 British troops bound for the Middle East.  As a peacekeeper on active service in Iraq, young doctor Tam, plagued by dreams of fleeing war torn Saigon, reconciles her own refugee experience while rehabilitating the displaced Kurdish people.  Catherine, a surgeon in Afghanistan, reflects on the journeys of the remarkable women who paved the way for her own experience as a modern military doctor.  In these and myriad stories of revelation, loss, struggle and kinship; moments of hope and humour punctuate the otherwise harrowing task of conflict medicine.
Hallowed Ground is inspired by personal dairies, historical documents, face to face interviews and in particular a unique ongoing collaboration with Professor Susan Neuhaus who served as a surgeon in Afganistan and elsewhere, her career with The Australian Army spanning over twenty years.  Her book - 'Not for Glory: A Century of Service by Medical Women to the Australian Army and it's Allies' addressed her questions about her own profession and her desire to know how positions like her came to be.  Who came before her?  Who were these women?  What motivated them?  Why don't we know these stories?  How have women today benefited from their experience?  These questions resonated with us.  How can we contribute to their legacy for future generations?  If these women could speak to each other and to an audience what would they say?  Poignant and authentic, Hallowed Ground will appeal to audiences from teens to senior citizens.
RADIO INTERVIEW WITH DENNIS WALTER
www.facebook.com/TheShiftTheatre

 Venue:
 

Forge Theatre - Auditorium

 Performance  Times:
 Saturday 15 June, 7:30 pm
 Duration:
 1 hour 20 minutes - NO INTERVAL
 Ticket Prices:
 Full: $38.00
 Concession: $33.00 (Seniors/Pensioners)
 Group 8+: $33.00
 Students: $27.00
 

Forge Friend: Adults: $33 Concession: $28

A BFF membership card will be mailed to your postal address
The BFF discount promotion code to book your tickets online will be issued with your membership card.
Should you have any queries please telephone the Forge Theatre Monday to Friday, 10am to 4pm on 5152 1482.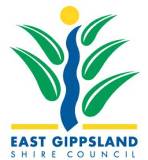 Contact: Forge Theatre and Arts Hub
Email: boxoffice@egipps.vic.gov.au
Telephone: 5152 1482
This event is currently closed and no contact details are available