Women Transforming Leadership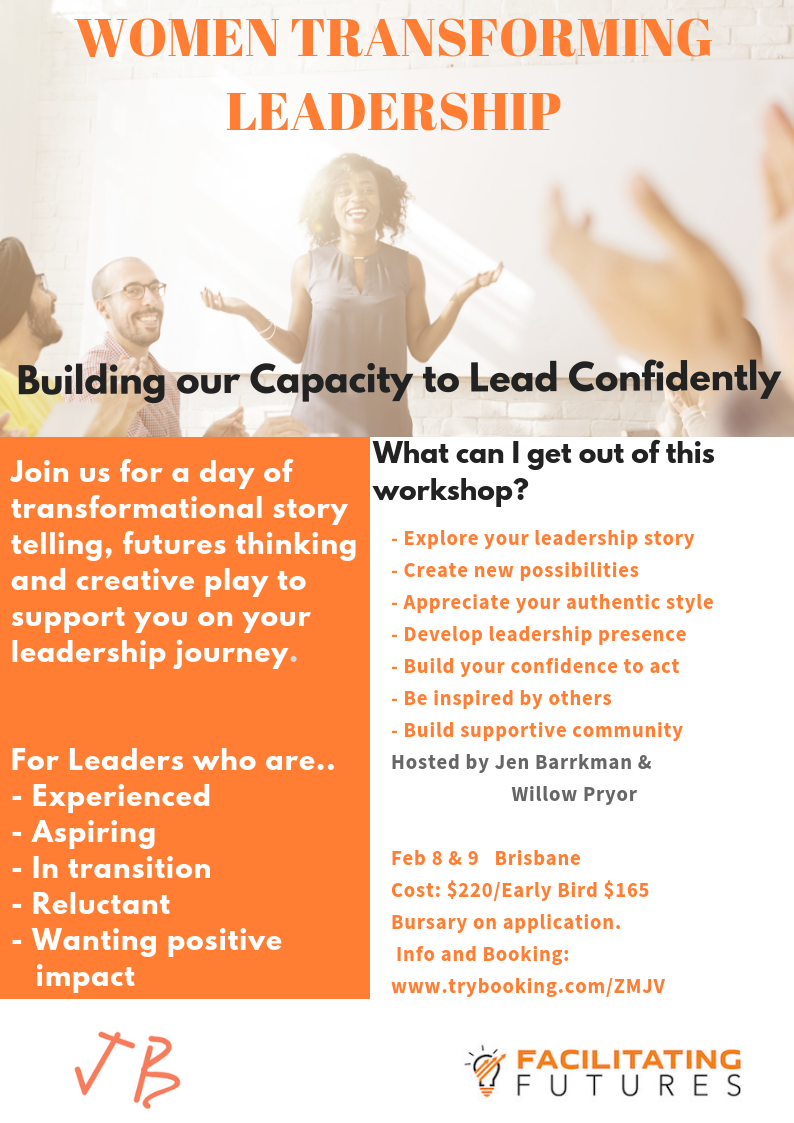 Women Transforming Leadership is for women who wish to become more aware of, and question, the story they tell themselves around taking leadership so they can step up and out in new, courageous ways that are authentic for them. Challenging your leadership story can help you think outside of the box, create new possibilities, build confidence and lead to the creation of a bolder vision for leadership for both yourself and your community. 
Key aspects of this workshop are opportunities to transform our internal leadership story and the subsequent embodiment of the new story, including skills to help you build your authentic leadership presence. We use a range of engaging inclusive processes that enable all people to participate and to create and enact a new story. It is like taking your new leadership story for a 'test run' in a safe, playful environment. 
Your facilitators, Jen Barkkman and Willow Pryor, bring years of combined expertise and experience in storytelling, futures thinking and theatre to lead you confidently through a leadership transformation. Often our culture has described leadership using very strong masculine archetypes, some of which are very useful. However, we also believe leadership needs to be transformed to encourage women to appreciate, and step more fully, into their own authentic leadership style. 
FURTHER INFORMATION:
Food: On both days, morning tea will be provided, with gluten free options available. Please bring your own lunch, to share if you choose, or you can purchase something from the many options available close by. 
Accomodation: The 1.5day course is not a residential however if you are from outside of Brisbane please let us know or post it on the facebook event page and we will do our best ot work the power of community and find you something suitable. 
YOUR FACILITATORS for the WORKSHOP
Jen Barrkman: For nearly 30 years Jen has worked as a group and story facilitator, psychologist and oral historian, Playback theatre practitioner connecting people in groups, communities and organisations. She has facilitated and organised training, workshops, team development, forums and conferences as well as history and community projects. She also works as a psychologist and supervisor in private practice. From her own experience Jen knows how difficult taking leadership can be and is now excited to bring her vast experience and expertise together to support and guide other women into their own leadership journey. 
Willow Pryor: Willow is a futurist, facilitator and speaker focussed on supporting both individuals and organisations to create more sustainable, equitable and just futures for all. As a foresight specialist Willow has been involved in a wide range of projects, specifically in health, disability, community, water and engineering. Her experience has covered work with government, not-for-profit's, corporates and social enterprise. Willow also practiced as a Body Psychotherapist for over ten years and is a playback theatre practitioner. She enjoys weaving this experience together with futures thinking to support individuals and groups to playfully explore their leadership story and desired future states. Knowing how rewarding and challenging her own personal leadership journey has been at times, Willow is now excited and passionate about supporting other women to find their own unique leadership path which is authentic to them. 
Friday 8th February Session: 9.30am- 4.30pm
Saturday 9th February Session: 9.30pm- 1pm
PLEASE NOTE***: Please arrive between 9am and 9.15am to register, relax and prepare yourself for a 9.30am start.              
143 Wickham Street
Fortitude Valley
This event is currently closed and no contact details are available