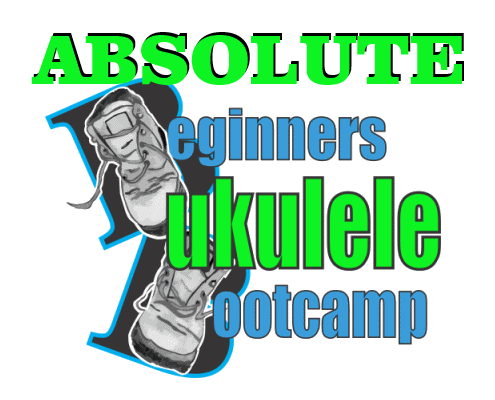 Just starting ukulele?
Come to Absolute Beginners Ukulele Bootcamp ... absolutely FREE.
Julie, Keryn and John will run a free Absolute Beginners Ukulele Bootcamp on two consecutive Wednesday evenings in February 2019. Attendance is specifically for Absolute Beginners. Group size is limited to 15 participants.
Players who already know C, F & G7, please don't apply.
At Absolute Beginners Ukulele Bootcamp we do the hard yards. In true Bootcamp style, there'll be lots of boring basics, and dreadful drill and practice to build your strength and confidence. We aim to get through a lot of material in each session. You're unlikely to master each skill at Bootcamp, and you will need to commit to 10-15 minutes practice most days of the week following the Bootcamp session to consolidate what you learn.
The course is designed to help you structure your own practice sessions. It covers the parts of the ukulele, habits of practice, finger dexterity, ear training, basic music theory and clues from sheet music, reading rhythms, interpreting ukulele chord diagrams and songsheets, strumming technique, strum patterns, picking patterns, chord shapes for Am, Am7, C, C6, D, D7, F, G, and G7, chord placement drills, common chord changes and progressions, 12 bar blues ... and ultimately ... playing and singing songs.
Bring your ukulele and tuner. No notetaking required, you'll be too busy anyway. Detailed notes with supporting resources are emailed to participants after each session.
Please email questions about the course to Keryn at bneukebootcamp@gmail.com.
Location: Bulimba Brisbane City Council Library, Meeting Room 1,
Cnr Riding Road & Oxford Street, Bulimba Q 4171.
Dates: Wednesday 13 February 2019 (Session 1) and 20 February 2019 (Session 2)
Time: Arrive at 6:45 pm for a 7:00 pm sharp start. Sessions run from 7:00-9:00 pm.
Registration: Registering via Trybooking enrols you in both sessions. Please only apply if you are available for both sessions. Registrations close 7:00 pm on Friday 8 February 2019.
This event is currently closed and no contact details are available