March 2019 Beginners

Ukulele Bootcamp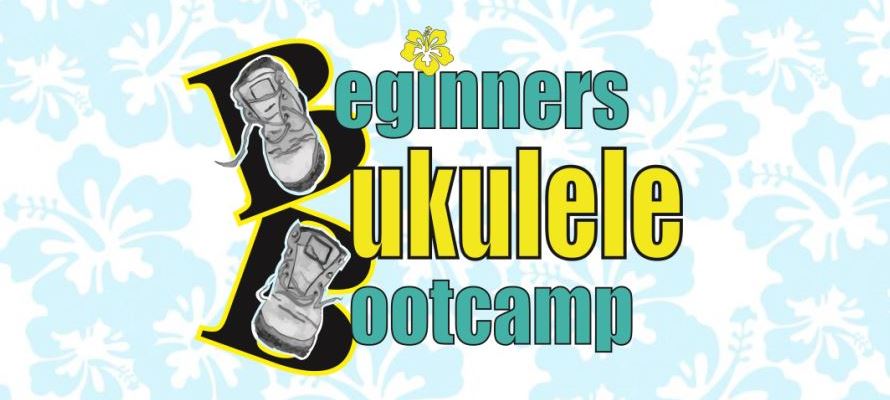 ---------------------------------------------------------------------------------------
The March Beginners Bootcamp is now full.
There are still vacancies in the April Beginners Bootcamp (Wed 17 & 24)
at Nundah BCC Library, Bage Street, Nundah.
https://www.trybooking.com/book/event?eid=474728&
---------------------------------------------------------------------------------------
Off to a flying start ... mastered C, F & G7 and looking for more?
Build your strength and confidence and master a new set of chords at Brisbane Ukulele Bootcamp's free March beginners' course.
Julie, John and Keryn will run a free Beginners Ukulele Bootcamp on two consecutive Wednesday evenings in March 2019. Attendance is specifically for beginners who can move smoothly between C, F and G7, but want to master more.
We'll revise ukulele basics with Am, C, F and G7, and use mastery drills to add more chords and songs to your repertoire.
No notetaking required. You'll be much too busy. We cover a lot of material in each session, so you're unlikely to master everything at Bootcamp. Detailed notes with supporting resources designed to help you structure your own practice sessions will be emailed to participants after each session. Practising for 10-15 minutes most days of the week following the Bootcamp sessions will help you to consolidate what you learn.
Beginners Ukulele Bootcamp offers practice tips, finger dexterity drills, ear training exercises, basic music theory and how to find clues for playing songs in sheet music. The chords we'll use for this course's drills, chord progressions and songs include A,  A7, Am, Am7, C, C6, C7, Cmaj7, D, D7, Dm, E7, F, G, and G7.
Bookings are for two sessions. Please only register if you are available for both sessions. The group size is limited to 28 participants. If you miss out, please add your name to the waiting list. Registrations close 7:00 pm on Friday 8 March 2019.
DATES
Session 1: Wednesday 13 March 2019
Session 2: Wednesday 20 March 2019.
Arrive at 6:45 pm for a 7:00 pm sharp start. Sessions run from 7:00 pm - 9:00 pm. Bring your uke and tuner.
Booking into Session 1 automatically books you into Session 2.
Location
Bulimba Brisbane City Council Library
219 Oxford Street, Bulimba, Q 4171
Contact Details
If registrations have reached our limit, and you'd like to be placed on our waiting list in case of cancellations, please click the 'Waiting List' button above and register your details, or email your name, email address, telephone number and suburb to Keryn at bneukebootcamp@gmail.com .
This event is currently closed and no contact details are available