PODD Alternative Access One Day Workshop
The Pragmatic Organisation Dynamic Display (PODD) approach assists people with complex communication needs to learn to understand and use language to enable autonomous communication. It provides strategies to support the design, production and implementation of communication systems to enable genuine communication for a variety of functions in all daily environments.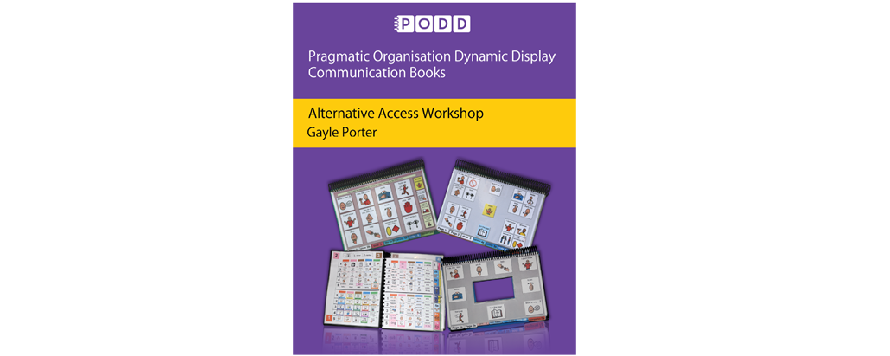 Workshop Content 
The focus of this workshop is on PODD communication books designed for individuals who cannot point directly to a display with their hands. The content will build on the information relating to the purpose, design principles, intervention strategies and use of PODD communication books covered in the two-day introductory workshop. 
A range of alternative access PODD communication book will be discussed including: eye-gaze (eye-pointing), partner-assisted scanning (visual, auditory, visual plus auditory scanning), combination access, and coded access. The design features to suit, procedures to operate and teach each access method will be presented. Participants will have the opportunity to practice using each access method.
Note: Completion of a two-day PODD introductory workshop is a pre-requisite for this course.
Learning Outcomes 
Participants will be able to:
Describe the different PODD design considerations/options to accommodate for alternative access methods.

Outline the considerations for selecting different access methods to suit individual requirements.

Perform the partner operational procedures to use a range of alternate access methods.

Discuss problem-solving methodologies for developing operational skills for individuals who have severe movement difficulties (e.g. developing accept/reject movements for scanning).
About the Presenters
Gayle Porter is a Speech Pathologist with over 35 years hands on experience working with people with complex communication needs. Gayle lectures both locally and internationally about Augmentative and Alternative Communication (AAC) and Pragmatic Organisation Dynamic Displays (PODD). Gayle currently works at the Cerebral Palsy Education Centre and has a private practice working with both children and teenagers with complex communication needs in their local schools. Gayle is the co-author of "Integrating Augmentation and Alternative Communication into Principles of Conductive Education". She also contributed a chapter to the book "Communication Without Speech" (Bloomberg & Johnson 1991). Gayle is a highly sought after international presenter.
Yvette Theodorsen, founder of Interactive Speech Pathology, has focused most of her 16 years as a speech pathologist working in the area of Augmentative and Alternative Communication (AAC). She is a certified PODD Workshop presenter. Yvette is passionate about every person having a voice, no matter how significant their challenges may be, and has implemented PODD communication books with people from 9 months to 46 years of age, believing that nobody is too young or too old to begin with AAC. Yvette continues to work in a practical, hands-on way, collaborating with families, educators, therapists and other supporters to implement various AAC systems, including the PODD communication system with individuals in all settings.
$275 inc gst—Includes lunch, morning and afternoon tea.
Further details: Event Flyer 
Location
Tompkins on Swan
632 Canning Highway, Alfred Cove, WA 
This event is currently closed and no contact details are available