Be Empowered Into Mahavatar Babaji's Kriya Yoga By Yogiraj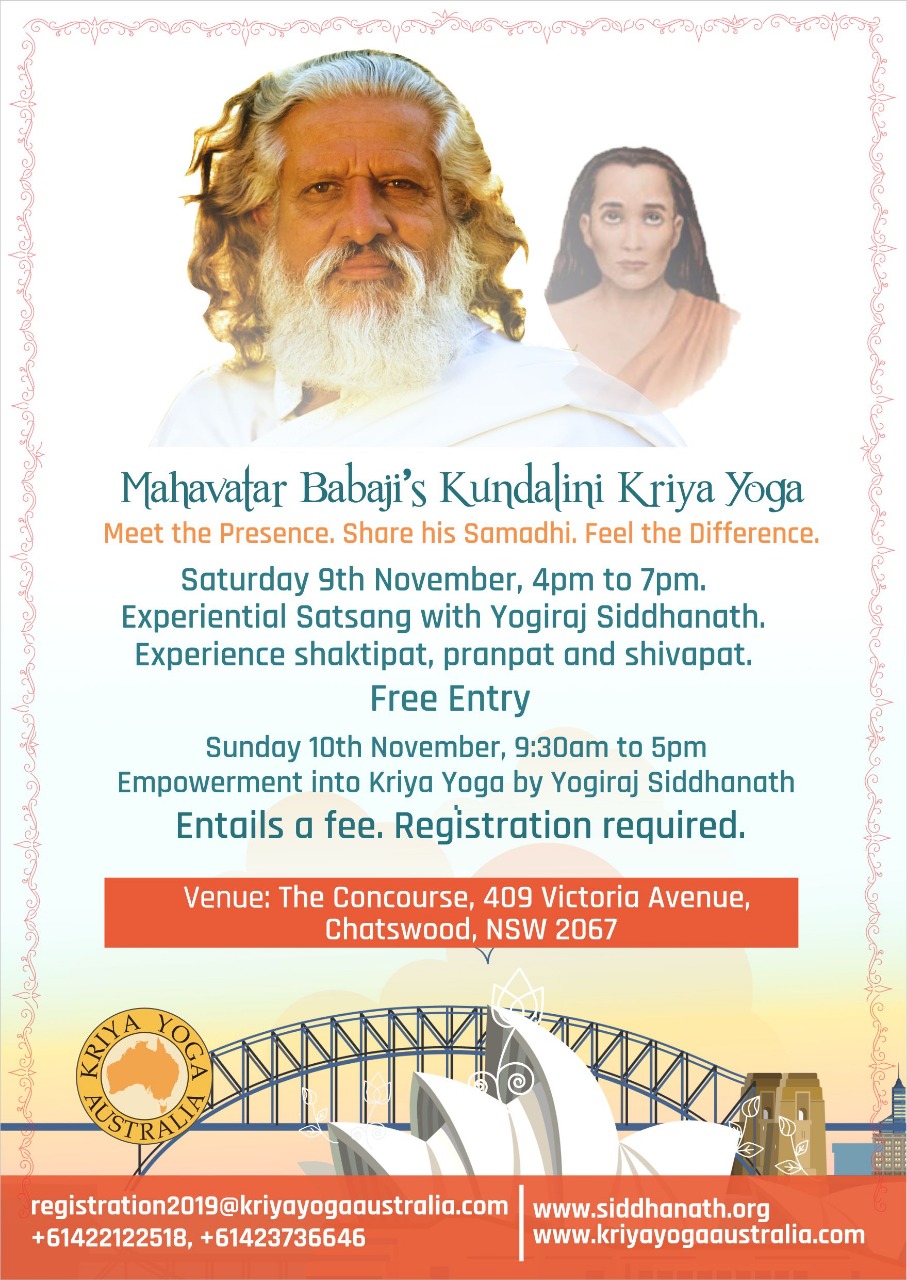 Be Empowered into Mahavatar Babaji's Kundalini Kriya Yoga directly by Yogiraj Satgurunath Siddhanath in Sydney
Be initiated and empowered into the evolutionary Kundalini Kriya Yoga, the fast track path that takes you to the higher limbs of Yog Sadhana, Pratyahar, Dharana, Dhyan and Samadhi. Take the step towards self-realisation and delve into the inner wellspring of love and joy. Kriya Yoga continues in the yogic tradition of non-doing doing, the effortless effort that takes you to the divinity within. 
This is an all-day meditation experience – a chance to learn powerful and ancient techniques directly from a Himalayan Kriya Yoga Master. Yogiraj will be coming to Australia for the first time to share his experience of Samadhi and teach the ancient meditative practice of Kriya Yoga. This full-day event includes Q+A with Yogiraj, as well as initiation and empowerment into  Kriya Yoga basic techniques by the Master himself. Breakout sessions with experienced teachers are also included to provide further detailed instructions and review the techniques.
It is a rare opportunity to receive Kriya initiation and Healing Energy Transmissions directly from a living Himalayan Master. Few such masters exist in the world, and even fewer travel so widely in order to share their knowledge and Samadhi with others.
This event is for those looking to go deeper than a single Satsang experience of the Master, to become initiated into Kriya so that they may learn and carry this transformative experience with them wherever they go. Through the regular practice of Kriya Yoga, one can expect to experience significant and total spiritual transformation, including expansions of consciousness and the appearance of ease and order into their daily lives.
Register today for this life-changing event. Pre-registration required to book your spot.
Duration: 9:30 AM till 5PM on Sunday 10th of November 2019
Venue: Civic Pavillion at The Concourse, 409 Victoria Avenue, Chatswood, NSW 2067
Fee for New Students: AUD 250 (Initiation and Empowerment into Kriya Yoga)
Fee for Old Students: AUD 108 (Empowerment into Kriya Yoga by Yogiraj for students who have learnt kriya yoga from a teacher of Siddhanath Yoga Parampara)
Free review for students already empowered by Yogiraj.
For queries email: registration2019@kriyayogaaustralia.com
Or Call:
Altaf: 0422 122 518
Subu: 0423 736 646
On Sunday 10 November 2019 at 10:00am
Location
Civic Pavillion at The Concourse
409 Victoria Ave, Chatswood, NSW 2067
Be Empowered Into Mahavatar Babaji's Kriya Yoga By Yogiraj
Make a booking, click below
Resend tickets to your email address.
Contact the event organiser.
You can review the event organiser's terms and conditions here.
Be Empowered Into Mahavatar Babaji's Kriya Yoga By Yogiraj
Contact name: Altaf or Subu
Contact phone: 0422122518 0423736646
You can review the event organiser's terms and conditions here.
If you can't find your tickets, click here.
Your email has been sent.
The organiser will be sent the details of this message.

Sorry, there appears to have been an error. Please try again later.