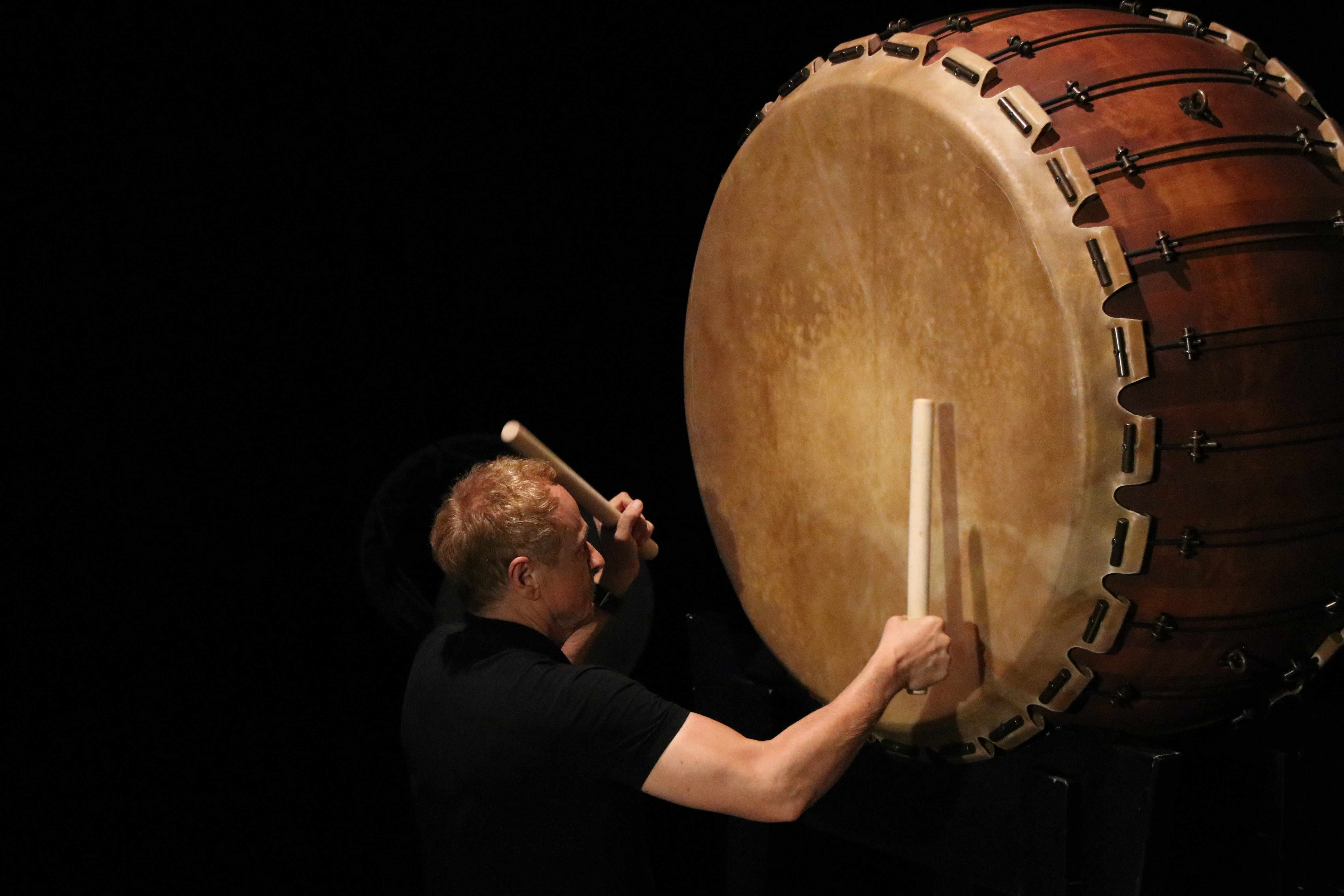 The Boite and Pulse Rhythm present
Power of Rhythm TaKeTiNa Workshop Feb 2019
with the founder of TaKeTiNa Reinhard Flatischler & co-leader Master teacher Tania Bosak.
22nd, 23rd, 24th FEBRUARY 2019  -  MELBOURNE 
A 3 day TaKeTiNa Experience including an OPTIONAL Saturday evening lecture and information session.
LIMITED RATE AT $285 STILL AVAILABLE
This open public workshop event is also a selection workshop for the upcoming TaKeTiNa Teacher training in 2019. Expressions of interest email tania@bosak.com.au 
LIMITED GROUP RATE DEAL for 4 or more people $260 per person  email info@bosak.com.au for booking details. 
DATES & TIMES 
Friday 22nd  Feb 10.30 - 6.30pm (Full day session)
Sat 23rd Feb 10.30am - 6.00pm ( dinner break) then 8pm TaKeTiNa lecture and information session (Full day session and evening session)
Sun 24th Feb 1.30-5.30pm (Afternoon session)
Please note the TaKeTiNa workshop cannot be taken in part. The evening lecture is optional ( no discounts apply if you are unable to make this session)
VENUE ADDRESS  
75 Reid street North Fitzroy 
Reid Street Space Main Hall
PRICES
GROUP RATES AVAILABLE FOR 4 or more at $260 per person: email info@bosak.com.au for this deal.
$285 EARLY RATE UNTiL SOLD OUT 
$320 concession/unwaged/pension with concession card
$350 waged/full
CONTACT
TEACHER TRAINING INFORMATION http://www.pulserhythm.com.au/taketina-training-2019.html
CONTACT info@bosak.com.au
WEBSITE www.pulserhythm.com.au
PHONE: 0418316286
WHAT IS TaKeTiNa?
TaKeTiNa is a holistic group learning process and a profoundly new way of experiencing and understanding rhythm. Poly-rhythms and cross-rhythms form the basis of the process as it utilizes the body through stepping, clapping and singing to generate a complex and rich rhythmic choir which leads participants into states of relaxation, inner presence, and awareness. Learning with the TaKeTiNa also develops creativity, musicality and opens an awareness of our individual patterns, which inhibit our lives and relationships. TaKeTiNa leads participants to their innate rhythmic knowledge and connects us to the forgotten power of rhythm in nature and within us. As a deeply relaxing and meditative process, TaKeTiNa requires no musical experience and invites participants to go at their own pace.
BODY AS INSTRUMENT
Learning through the body is direct and requires no technical skills. Rhythms are layered into the body through stepping, clapping and the voice.
Rhythm becomes a mirror for our personal process and teaching us how to enter our true authentic nature.
TaKeTiNa conveys rhythm the way people naturally grasp and learn it: by a direct physical experience of fundamental rhythmic movement. The capacity for this is inborn; all infants come into the world with the sensory and motor skills that become the rhythmic foundation of all music. Fundamental rhythmic movements which are the underlying matrix of all forms of music.
In this workshop, TaKeTiNa invites you to take a closer look behind the scenes of your life and to enter those spaces from which your life flows.
In this space, opposites collide: stillness and movement; emptiness and fullness; tension and relaxation, all become one.
When we experience these rhythmic spaces consciously through TaKeTiNa, we become closer to the background of our lives and experience complete stillness
through movement.
TaKeTiNa is a process, capable of activating the human and musical potential through rhythm. Learning rhythm and music with the TaKeTiNa process always means learning for life, too'.
— Reinhard Flatischler - composer, founder of TaKeTiNa

"The Ta Ke Ti Na rhythm process constitutes a great contribution to the evolution of music pedagogy. Ta Ke Ti Na seminars are always welcomed with great enthusiasm by our students."
— Professor Werner Hasitschka, President, University of Music, Vienna.
"TaKeTiNa really has enriched my personal life. The joy of playing and discovering rhythm is always followed by immediate results. TaKeTiNa is a fascinating process based on an incredible amount of life experience." PROF. DR. ROLF VERRES, UNIVERSITY HEIDELBERG
"We find TaKeTiNa to be powerful, playful, earthy, and yet transcendent – very inspiring!"
DEVA PREMAL & MITEN, SPIRITUAL SINGERS, AND SONGWRITERS
About the principles of TaKeTiNa
IN THE REALM OF MUSIC, TAKETINA CAN HELP YOU TO:
stay in the groove and flow

develop profound rhythmic orientation

get to know the universal rhythmic building blocks.

develop improvisatory and compositional abilities

increase competence on drums, and percussion instruments.
IN DAILY LIFE, TAKETINA CAN HELP YOU TO:
develop presence and a state of inner silence

stay focused for exceptionally long periods

deal creatively and effectively with chaotic phases

lessen your anxiety about mistakes and thus, help you make fewer mistakes

perceive several things simultaneously.
THE TEACHER TRAINING 
The basic TaKeTiNa rhythm teacher training course is an intense, three-year-long journey during where participants gather and learn to integrate musical, educational and therapeutic skills and knowledge. Certified TaKeTiNa teachers can apply those skills both as TaKeTiNa teachers and in their work in related fields.
More details visit http://www.pulserhythm.com.au
*TERMS AND CONDITIONS
*Please note this workshop cannot be taken in part. Cancellations receive full refunds if made by the 23rd January 2019 and incur a $50 cancellation fee. All cancellations after this date are non-refundable, but can be used as a credit note toward a workshop or event with Reinhard Flatischler or Tania Bosak in Australia for up to 24 months after the scheduled event. Please note if you are unable to use this credit after this 24 month period, no refunds apply.
 Tickets can be transferred to another participant prior to the start date, however not during the event. 
This event is currently closed and no contact details are available