RWA OWL: Author Branding: Why you need it before you sell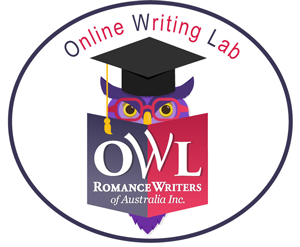 There is so much more to effective AUTHOR BRANDING than a pretty website and a catchy tagline. Working out who you are as a writer and what you want to say is an important part of effectively communicating to editors, agents and (ultimately) readers. Branding is not something you need to leave until after you sell. 
This OWL course will run for four weeks and look at author branding in the romance sector and will help participants identify what their brand is. By month's end participants will have a clearer idea of what your author brand is and the different ways you can express it.
This course will be delivered via YouTube and Google email loop. Lessons will be presented in the form of  weekly video lectures you can watch in your own time and as often as you wish in the month with an active (but optional) Q&A via Google group across the month. You can do it easily, in your own time and lurkers/introverts will get as much out of it as more active participants! 
Author Branding is primarily targeted at aspiring authors who are carving some time away from their focus on craft-basics to start thinking about career progression, but there will be ample lightbulb moments for emerging and established writers, too.  Everyone welcome (including those who want to stay under the radar).
Here's what past participants have said:
I'm getting so much from this workshop. Fantastic information and delivered so I can absorb and understand.
I have absolutely loved this course. I've gotten so much out of it. Your years of experience shines through brightly and I'm so grateful I've been able to learn from you. 
This has been an awesome OWL! Your information has been clear, current and constructive. 
I love the way you are putting so much more emotion into everything. Makes me think harder not just about branding but about what it is I'm writing. 
The video format is great and the details you provide on how to bring everything together into a brand are fantastic. 
Thanks for the really informative OWL on branding - wow, such effort on your part but so worthwhile for the likes of me! 
Please note: For ease of access, this OWL is conducted via Nikki Logan's private YouTube channel and so you will need a Google log-on to access that (secure) area - you probably already have one for Gmail or GooglePlus or YouTube. Just tell us what that email address is at registration.
Presenter's Bio:
Nikki Logan has published 25 novels traditionally, digital-first and independently as well as one writing how-to. She was President of Romance Writers of Australia (Inc) for two years and is an experienced public speaker/presenter with a long working history in advertising, public relations and communications. She has presented to community, corporate, volunteer, library and school groups ranging from six people to one-thousand. 
Harlequin's head of Digital Publishing Malle Vallik identified Nikki's brand, A Romance With Nature, as one of four notable examples of effective author branding in her branding masterclass at the RWAust Annual Conference.
www.nikkilogan.com.au and www.yddraig.com.au 
Course Dates: 6th May to 2nd June 2019
Cost: RWA-Member – $55.00 Non RWA-Member – $88.00
* Please note, there is a $0.50 Trybooking fee at checkout.
Venue: Online - This course will be delivered via YouTube and Google email loop
(Course attendees will be contacted, by email, by the presenter a few days before the course commences with an invitation to join the Google group)




RWA OWL Courses
PO Box Q740




Queen Victoria Building




NSW 1230



Contact Details:




Tania Lee




OWL Registrar




owlsregistrar@romanceaustralia.com
SaveSave
This event is currently closed and no contact details are available