RWA OWL: Pitch Like A Professional: A Conference Primer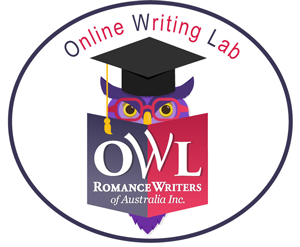 Gearing up for the Romance Writers of Australia conference in just a couple of months? Excited but silently terrified about the opportunity to pitch your book to an editor or agent?
"Pitch Like a Professional" is a four-week conference primer designed to get your synopsis, query letter, in-person pitch (and you!) glinting with readiness.
Each week will focus on one aspect of the pitching and submission skillset. As well as learning the secrets to successful submission, you will work on your own synopsis, query letter and pitch and then have an (optional) private session with your trainer to practice your pitch in a safe, one-on-one, face-to-face environment and get some feedback.
The course has two lessons per week, with each week's material, video and pdf, made available Monday morning, with homework. Feedback will be given on homework submitted.
At the end of the course participants have the opportunity to practice a one-on-one live pitch on Skype. Participants book a time suitable both to themselves and the trainer – to be organised in week 4 of the OWL, however not taking place until 2 weeks prior to conference to allow participants to take onboard course material and to practice their pitches.
Minimum time commitment for lurkers is 4 hours while the average requirement to benefit from participation is 12 hours. The course involves practical development of your own synopsis outline, query letter and pitch so you will need to make time to work on these to get the most out of the course.
Participants are expected to have a completed, or nearly completed manuscript prior to the start of the course.
Presenters Bio
AJ Blythe (Anita Joy) is an experienced TAFE trainer and educator who has done her fiction-writing apprenticeship over many years in the close company of some of her favourite published authors. She is that rarest of author-creatures: an author who loves to pitch. She thrives in short-form pitching and thinking on her feet. Since joining RWA in 2008 she been a finalist in the High 5, Ripping Start and Valerie Parv Award and won the Selling Synopsis award in 2013.
Find her at www.ajblythe.com and @aussiecozy
Course Dates: 3rd June to 30 June 2019
Cost: RWA-Member – $55.00 Non RWA-Member – $88.00
* Please note, there is a $0.50 Trybooking fee at checkout.
Venue: Online - RWA Moodle Platform
(Course attendees will be notified of access/login details via email from the OWL Registrar a few days prior to the start date of the course)




RWA OWL Courses
PO Box Q740




Queen Victoria Building




NSW 1230



Contact Details:




Tania Lee




OWL Registrar




owlsregistrar@romanceaustralia.com
SaveSave
This event is currently closed and no contact details are available