Drum, Dance and Sing with Chris and Waniso Berry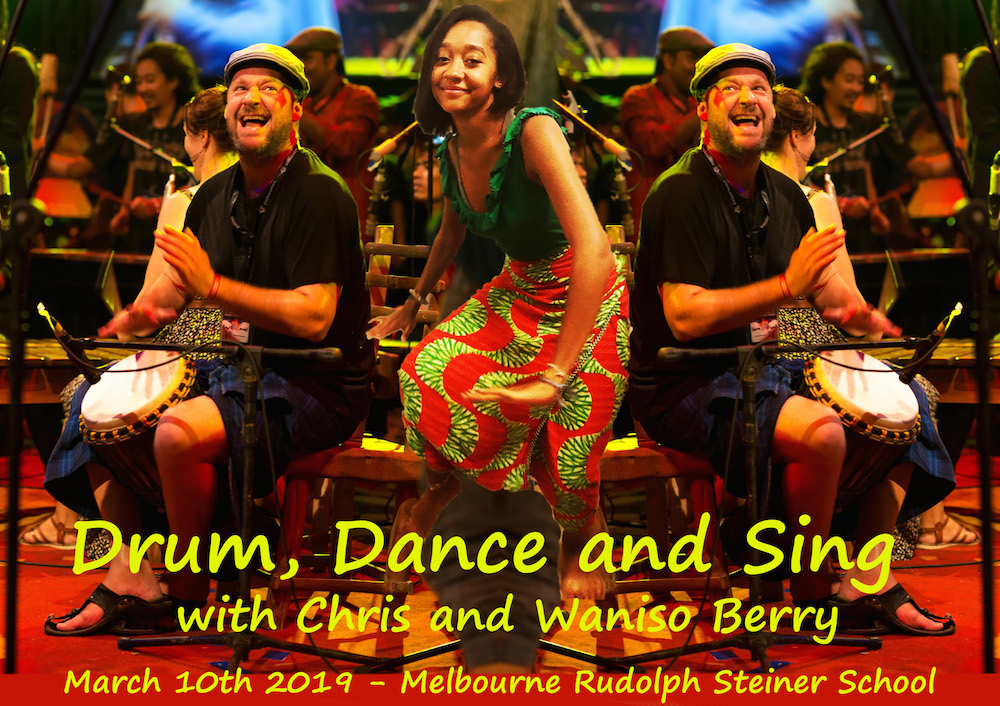 You are warmly invited to join virtuoso musician, composer and choreographer Chris Berry and (for the first time in Australia) his daughter Waniso for a powerful afternoon of African-inspired drumming and dancing, as well as an introduction to harmonisation and other techniques of vocal expression. Now based in New Mexico, Chris uses the rich language of West, Central and South-East African percussion traditions in the design of original drum and musical arrangements that harmonise with the natural world and provide a way to amplify intentions for personal progress and creative self-realisation.  He offers a model of high-energy, spontaneous composition that will compliment the journey of musicians in any field.
These workshops will offer a perfect entrance to the world of African arts, and will also challenge those who are more advanced along the path. This afternoon of music and dance will be held days before the Australian Bana Kuma Retreat Tour begins in Gembrook, Victoria and is a wonderful opportunity to get a feel for Chris' unique teaching style and compositions. For more information on the retreat, please follow this link: http://www.soulcirclesdrumming.com/bana-kuma-retreat-2019.html. Our afternoon will follow this flow:
1.30pm-3pm Drumming with Chris
3pm-4pm Singing/harmonisation with Chris
4pm-5.30pm Dancing with Waniso
Each workshop will be a different expression of the same context and theme. People already registered for the retreat are entitled to a discount. If this is you, please email me for the discount code. A portion of all contributions will be donated directly to the Panjea Foundation. For more information on this, visit Chris' website listed below.
All drums will be provided. Please bring a water bottle, loose allowing clothing, recording equipment, and snacks if are joining us for the whole afternoon. Looking forward to welcoming Chris and Waniso to Melbourne, and expanding our Melbourne Bana family!
ABOUT THE ARTISTS
CHRIS BERRY
Chris began his musical journey as a youth inspired by the incredible melodics of the Zimbabwean Mbira. His passion for the instrument and the culture that created it led him to live amongst the Shona tribe of Zimbabwe, where he was bestowed with the title Gwenyambira meaning 'one whose music calls the spirits.'

In subsequent years his journey expanded from music-making into mediumship, under the guidance of Shona wisdom keepers and spirit mediums. He then embarked upon a journey to share the great potential of musical creation with communities worldwide, using story-telling, melodic instrumentalism, song, drumming and movement to activate a phenomenon known as N'jinji (literally a channel that opens between the physical and spirit realms). This is the high-vibrational sensation that musicians sense when everything is 'in the pocket,' and when time and space seem to lose their hold. The state of mind this invokes creates the ultimate condition for healing and ancestral communion.
WANISO BERRY
Born into a family of master dancers and musicians Waniso's journey began early in the womb of master Zimbabwean Dancer, Rujeko Dumbutshena. Before Waniso could walk she was swaddled to her father, Chris Berry, at ceremonies and later began dancing traditionally and onstage at the age of 3. Steeped in the traditions of her mother country Zimbabwe and the Bana Kuma, Waniso was also immersed in Congolese, West African, Ballet and Modern dance from an early age. Initiated into the deep wisdom and mythology of the Bana Kuma Waniso is considered the foremost dancer of Bana Kuma to date with not only a deep understanding of the dances but the stories and healing attributes behind each movement.

"With a wisdom beyond her years, Waniso embodies both the spiritual and physical knowledge of African dance and shares it with an ease and grace that is unparalleled."

~ Mabiba Baegne

Director, National ballet of Zimbabwe
Location
The Michael Centre
37A Wellington Park Dr, Warranwood, Melbourne, VIC 3134
Contact Details
This event is currently closed and no contact details are available