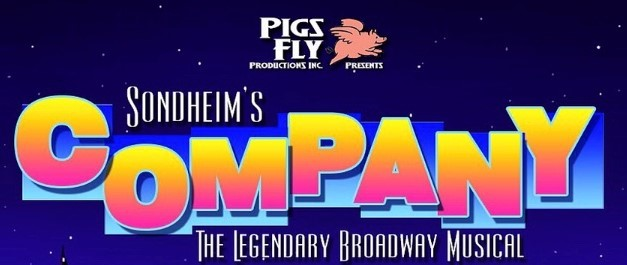 THE STORY...
'COMPANY', the Broadway musical by the legendary Stephen Sondheim. From the team that brought you the award-winning productions of 'The Importance of Being Earnest', 'Little Shop of Horrors', 'Calendar Girls' and 'The Vagina Monologues', comes 'COMPANY', the Broadway musical by the legendary Stephen Sondheim.  On the night of his 35th birthday, Robert, confirmed bachelor, struggles to think of a wish to make as he blows out his birthday candles. The lone bachelor, surrounded by "those good and crazy people", his married friends. Robert is uncertain whether he should simply be happy with his lot or whether he should wish for his own romantic partner. Over a series of dinner parties, first dates, and thoughtful conversations, Robert attempts to understand the pros and cons of marriage from his diverse and frequently hilarious friends, and begins to make sense of his own persistent bachelorhood. 'Company', Stephen Sondheim's ground-breaking modern musical, is a mature, intelligent, and wildly funny look at relationships, vulnerability, and "being alive." Every audience member will see reflections of themselves in at least one of the characters onstage.
The Theatre...
Mittagong Playhouse
Cnr Main St & Bowral Rd
Mittagong
The Dates & Times...
*Friday 3rd May - 8pm (Special Gala Event)*
Saturday 4th May - 8pm
Sunday 5th May - 2pm
Friday 10th May - 8pm
Saturday 11th May - 2pm & 8pm
Friday 17th May - 8pm
Saturday 18th May - 2pm & 8pm
(We strongly recommend arriving 15 minutes prior to the start of the show, otherwise, you will be locked out until a suitable break in the production)
The Prices...
Adult - $39
Concession - $34
Groups (10+) - $34
* Fundraising Opening Night Performance - $80 (single) & $150 (double)
* The price of this ticket includes a red carpet VIP arrival, post-show food, drinks, a show program, tea an coffee at interval, bottle of water, a 'Meet & Greet' with the cast after the show and a donation to the local branch of CAN ASSIST *
* (Note: a portion of the Opening Night Box Office will be donated to CAN ASSIST SOUTHERN HIGHLANDS)
The Contacts...
Destination Southern Highlands: 1300 657 559
The Producers: pigsflyproductions@hotmail.com
The Sites...
Facebook: www.facebook.com/pigsflyproductions
Instagram: www.instagram.com/pigsflyproductions
Website:    www.pigsflyproductionsinc.com  
COMPANY by Stephen Sondheim
Make a booking, click below
Resend tickets to your email address.
Contact the event organiser.
You can review the event organiser's terms and conditions here.
COMPANY by Stephen Sondheim
Contact name: The Producer
You can review the event organiser's terms and conditions here.
If you can't find your tickets, click here.
Your email has been sent.
The organiser will be sent the details of this message.

Sorry, there appears to have been an error. Please try again later.